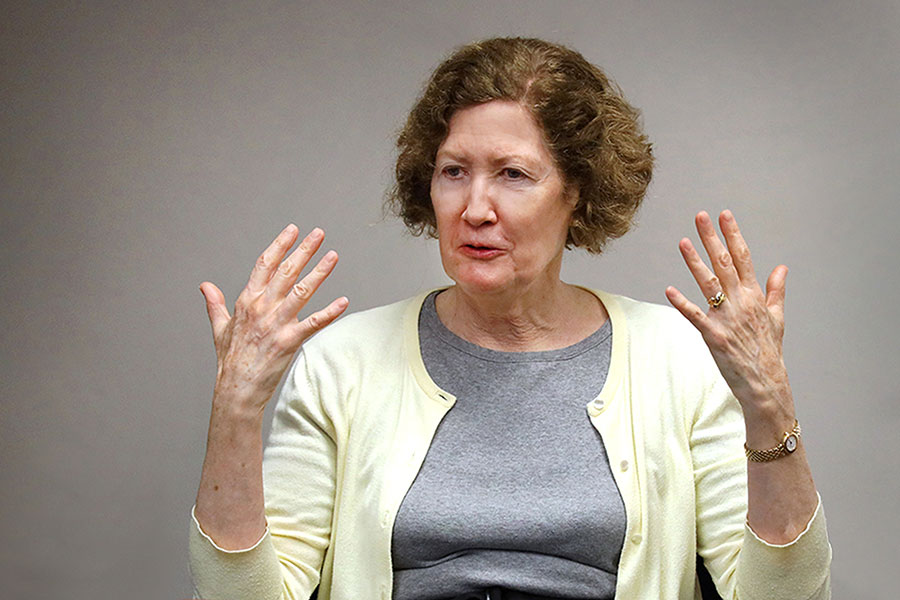 In 1977, 24 women arrived at the world-renowned University of Oxford as the first female Rhodes Scholars. One of those pioneering women was from Florida State University, and she returned to Tallahassee this week for a series of events hosted by her former department.
Caroline Alexander, a British-American author, classicist and filmmaker, returned to her alma mater for Classics Week at FSU, an opportunity to celebrate and embrace the study of classical antiquity.
Born in the United States to British parents, Alexander grew up in North Florida and attended Florida High before transitioning to FSU during her senior year of high school.
"My sister and I took our senior years at FSU, so for us it was just an extension of high school," Alexander said. "I came to FSU when I was 17 and knew the campus very well by then because my father had taught here. I felt very much at home and was spared that wrenching feeling of coming to a place you might not know."
While at FSU, Alexander became enamored with the subject of classics, which encompasses the study of the Greco-Roman world, particularly of its languages, literature, philosophy, history and archaeology. She formed a mentoring relationship with Kathleen Rankin, a renowned professor in the Department of Classics at the time.
When the application for the Rhodes Scholarship opened up to women in 1976, Rankin encouraged Alexander to apply for the opportunity to go and study classics at Oxford. Alexander accepted the challenge and was admitted as one of the first female Rhodes Scholars and FSU's first Rhodes Scholar since Frederick William Buchholtz in 1905.
Alexander arrived at Oxford with the intention to continue her study of classics, but soon found that FSU had prepared her well enough to pursue other studies.
"I have never wished that I had gone to a bigger university with a more illustrious classics department," Alexander said. "I arrived at Oxford to study classics, but after one term I switched to philosophy and theology and that's a testament to having been very well prepared at FSU."
Since Oxford, Alexander has lived an exhilarating life, fulfilled by her passion for writing and classics. She's traveled widely, living in the West Indies, Italy, England, Ireland and the Netherlands, and written widely as well. From studying declining tiger populations in Burma to establishing a classics department at the University of Malawi in south central Africa, Alexander's resume is anything but dull.
But before all of these worthy accomplishments and even before Oxford, Alexander still remembers attending swim practices in the now defunct swimming pool at Montgomery Gymnasium.
During Classics Week at her alma mater, Alexander took part in a series of events, including a marathon reading of her groundbreaking translation of Homer's "Iliad." Alexander is the first female to translate the epic poem into English.
"I found FSU to be very supportive, but what's so wonderful coming back is that it feels like the university's flourishing," Alexander said. "It feels like there's resources bluntly. The landscape — everything looks maintained — and it's very striking."
Since Alexander won her prestigious scholarship, three other FSU graduates have gone on to be Rhodes Scholars: Garrett Johnson, 2006; Joe O'Shea, 2008; and Myron Rolle, 2009.
Created in 1902 through a bequest in the will of Cecil Rhodes, a British philanthropist and colonial pioneer, the Rhodes Scholarship is the oldest international study award available to American students and widely considered to be the most prestigious of its kind.
For more information about the Department of Classics at FSU, visit classics.fsu.edu. For more information on fellowships like the Rhodes Scholarship, visit the FSU Office of Naitonal Fellowships at https://onf.fsu.edu/.