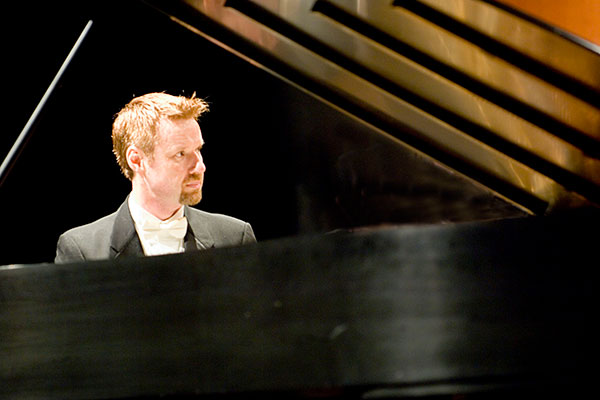 This December will mark 250 years since the birth of classical composer Ludwig van Beethoven. If you ask Florida State University Professor of Piano Read Gainsford, that's an occasion worth celebrating.
Gainsford said Beethoven changed music forever, moving it from the hands of the aristocracy, across classes and redefined it as a personal, relatable expression.
"Even today, if you take a poll of musicians and music lovers and ask them who the best composer ever is, you will find the answer is Beethoven," Gainsford said.
For these reasons and many others, Gainsford said he chose to commemorate the occasion of Beethoven's birth with a series of concerts featuring each of Beethoven's piano sonatas.
Gainsford will be performing all 32 of Beethoven's sonatas across a series of eight concerts over two semesters beginning Feb. 14 in Longmire Recital Hall. The series of shows is something Gainsford has been considering for years.
"Because I'm a pianist, it's been a goal of mine for many years to do this because, as a body of work, these piano sonatas are a huge mountain peak of piano music," he said. "People have referred to the works of Bach as the 'Old Testament' and the ones of Beethoven as the 'New Testament.'"
When deciding which pieces of music he wanted to play, Gainsford said the sonatas were a natural choice.
"They are more personal because it's one person playing," he said. "With a string quartet, a big part of that is how they interact. With a symphony you've got crowd control of the music playing. The sonatas, with one person playing, is perhaps the clearest way into Beethoven's mind."
Beethoven's arc as an artist includes famously growing deaf, which Gainsford said helped fuel some of his best compositions.
"He went on to write some of his best pieces after losing his hearing," he said.
The sonatas include some pieces that casual fans will recognize like Piano Sonata No. 14, better known as "Moonlight Sonata." Others are less well known and, for his part, Gainsford said he's re-acquainting himself with some of the music too.
"I'm discovering hidden secrets and perhaps things I just didn't know before," he said before adding with a laugh, "I'm falling deeper in love with each of them."
"For me, it's been an amazing journey of growth that I'm just happy to share with anybody who wants to come and listen."
For concert dates, set lists, times and locations, visit https://music.fsu.edu. Admission to each of the concerts is free and open to the public.