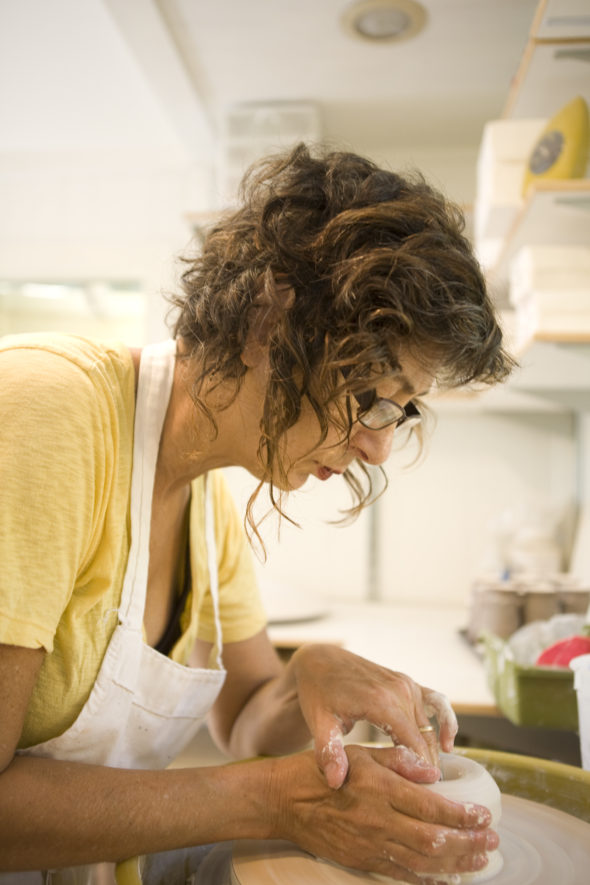 A Florida State University professor of art has been invited by international colleagues to become a member of the International Academy of Ceramics.
Holly Hanessian, who joined the Department of Art faculty in 2005, has accepted a prestigious nomination to become a member of the International Academy of Ceramics, the principal organization representing the interests of ceramists worldwide.
"I am incredibly grateful and humbled to be invited as a member of the International Academy of Ceramics at this time in my career," Hanessian said. "This honor reaffirms my commitment to a field with a strong, global, cultural currency and recognizes the long hours spent engaging with such a challenging material."
Membership in the academy will allow Hanessian to create vibrant connections to others in the community and enhance her career through invitations to residencies, submissions of publishable articles and requests to jury international exhibitions and competitions.
"The academy is committed to representing ceramics internationally by fostering dialogue between cultures at the highest levels, and my affiliation with such an organization will enable me to do the same," she said.
Boasting 897 members worldwide, the academy was founded in 1952 by Henry J. Reynaud and encourages all forms of international cooperation to promote ceramics. It's the only association devoted to the medium of clay that functions on an international level, bringing ceramists, artists, potters, designers, authors, collectors, gallerists, conservators, restorers and curators together to encourage and maintain production at the highest level of quality in all ceramic cultures.
"Over the course of my life, I have had a fierce determination to succeed as an artist who uses clay in a culture that undervalues the arts," Hanessian said. "This determination has been further fueled by the understanding that, even within the visual arts, the field of ceramics is sometimes viewed as a lesser art form since clay is used by children and hobbyists."
Hanessian creates artwork that is a hybrid of design, craft and contemporary art. For the past 30 years, she has shown her artwork in the United States and abroad, written reviews on exhibitions and essays for books and journals in the fields of ceramics, craft and technology. Her membership in the academy adds to her impressive resume of fellowships, which already includes the Socially Engaged Craft Collective, Artaxis.org and Access Ceramics.
Hanessian currently serves as president of the National Council on Education for the Ceramic Arts (NCECA), an organization that provides programming at a yearly conference to more than 6,500 national and international members.
"I continue to be enamored by my love and innate desire to touch and manipulate this material," Hanessian said. "However, in the last 10 years, I have shifted roles and begun to work towards advocacy, community service and activism, as well as being a thought leader to create social changes through my art. My position with NCECA has made me more aware of creating an equitable landscape for other artists who are coming up in the field and making space for them to flourish."
For more information about the Department of Art at FSU, visit art.fsu.edu. To learn more about the International Academy of Ceramics, visit aic-iac.org. To view some of Hanessian's work, visit hollyhanessian.com.