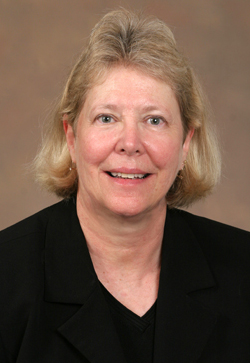 A professor in Florida State University's Department of English has received a top honor in her field as the 2018 recipient of the prestigious Exemplar Award from the Conference on College Composition and Communication. The CCCC is the world's largest professional organization for researching and teaching composition, from writing to new media.
The Exemplar Award recipient, Kathleen Blake Yancey, is the Kellogg W. Hunt Professor and a Distinguished Research Professor at Florida State.
"I know all the former Exemplars — the first award was made in 1991 — and to follow in those very large, very smart and very generous footsteps is humbling," Yancey said. "If I could capture what it means to me in a single sentence, I think I'd say that receiving this award means that I have made a contribution to the field that others have recognized and valued, which is quite an affirming experience. I wish everyone could have such an experience because many people, my good colleagues among them, surely merit it.
"And of course, I'm grateful to the colleagues who nominated me and to the committee who selected me," she said.
The Exemplar Award is "the most prestigious award offered by the field of composition studies," said Yancey's colleague Professor Kristie Fleckenstein, the director of the graduate program in rhetoric and composition within the English department. International in scope and presented only when the 'occasion demands,' the Exemplar Award honors an outstanding member of the discipline whose contributions in service, scholarship and teaching consistently embody disciplinary excellence.

"(Yancey's) stellar achievements in all three categories more than warrant such recognition," Fleckenstein said. "She has edited, co-edited, authored and co-authored more than 14 books (not including two textbooks), with more coming out this year. She has also authored or co-authored more than 100 articles and book chapters. Out of that impressive array of scholarship, she has also received disciplinary awards for two of her books and five of her articles."
"That list only skims the surface of her accomplishments," Fleckenstein said. "She is, indeed, an exemplar for the field."
Yancey acknowledged that several areas of her research have received favorable attention, "including my research on assessment, especially electronic portfolios; on the role of digital technologies in composing; and on transfer of writing knowledge and practice."
Her accomplishments are not limited to scholarship. She has served as the elected leader of several scholarly organizations in her field, including as president of the National Council of Teachers of English; chair of the Conference on College Composition and Communication; and president of the Council of Writing Program Administrators. In addition, Yancey is the recipient of many awards, including two teaching awards and an award for her mentorship from Florida State University. She has also been acknowledged by her alma mater with the Purdue Distinguished Woman Scholar Award.
When asked what the CCCC Exemplar Committee valued in her work, Yancey said that she believed the committee especially esteemed her "work with students, which has taken several forms — as teacher, adviser, mentor, co-author, colleague and friend."
Professor Gary Taylor, chair of the Department of English, credited Yancey with reinvigorating the department's rhetoric and composition program.
"When Kathleen arrived at FSU, twelve and a half years ago, she took leadership of the rhetoric and composition program," Taylor said, "and has — in part through brilliant hiring, in part through her own impassioned and creative leadership — really brought it to life and into the front ranks of the field."
Taylor described Yancey as an educator who sets the highest standards for herself and others.
"We should all aspire to be the triple threat, as scholar/teacher/public servant, that she exemplifies," he said.