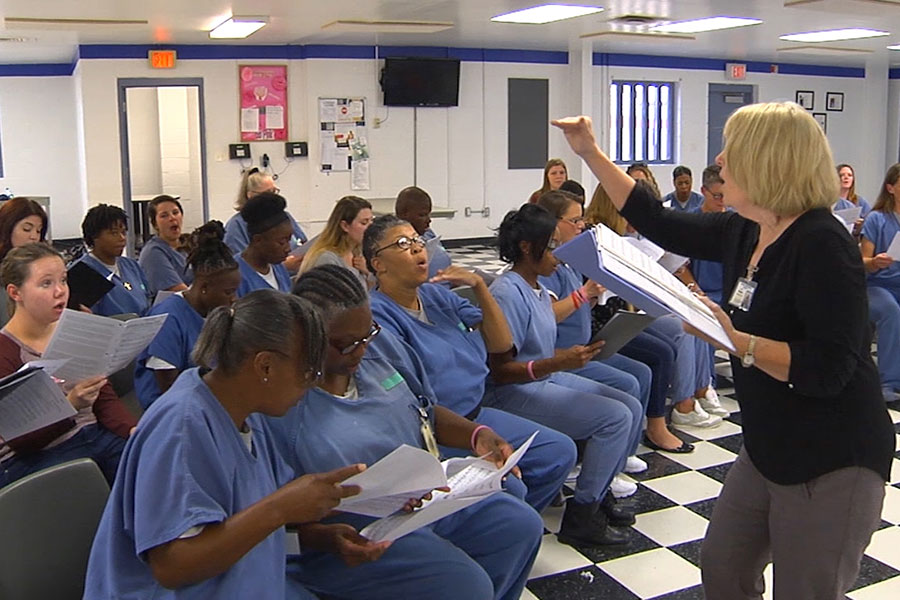 When Judy Bowers was first asked if Florida State University's choral education program would work with the choir at the Gadsden Correctional Facility, the longtime professor hesitated. She was uncomfortable with prison culture, and there was no chance she was going to send her students into that environment.
Instead, Bowers made a solo visit to the women's prison in Quincy, Fla., to work with the choir for a couple hours. And, it didn't take long for Bowers to completely change her mind about getting her students involved.
"There was something about those women," Bowers said. "They were so grateful."
Since Bowers' first visit in the spring of 2015, the group of FSU College of Music students and faculty members making the weekly trek to choir practice has grown to about 20.
Sarah Mohesky, a junior choral education major from Merritt Island, Fla., was one of three students who immediately volunteered after hearing about it from Bowers at FSU Glee Club practice.
"I thought it was really cool because I personally grew up with music in the classroom, and I can't imagine my life without it," Mohesky said. "Music is universal and something that everybody can connect with. If we can bring a group of college students to a women's correctional facility, that's so neat."
It was her students' reaction after their first visit to the prison that helped confirm for Bowers that this could be a powerful educational tool.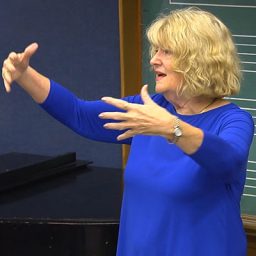 "The part that hooked me on it was those three kids," Bowers said. "I asked one of them, what did you learn today? She said, 'They're prisoners, but they're just like real people.'"
Teacher disposition — making sure students are the right kind of people to be teachers — is an important part of education certification. While Bowers normally evaluates her students in school settings, the prison allows her to see them work in a different environment.
"I can be at the middle school we partner with for 10 minutes and know whether they can be a teacher or not," Bowers said. "They get confidence and practice when teaching there, but I get my information. If you want empathy in people who graduate as teachers, in the prison it doesn't even take 10 minutes."
Bowers believes everyone should be able to learn about music and wants FSU students to learn how to teach people of all backgrounds. There's no better place to learn to do that than the prison, she said.
"Any kid who comes to FSU who goes over to the prison, and they have a kid in their classes or in their choirs who has a parent in a homeless shelter or a prison, they will be a different teacher," Bowers said. "They will have empathy you can't get any other way."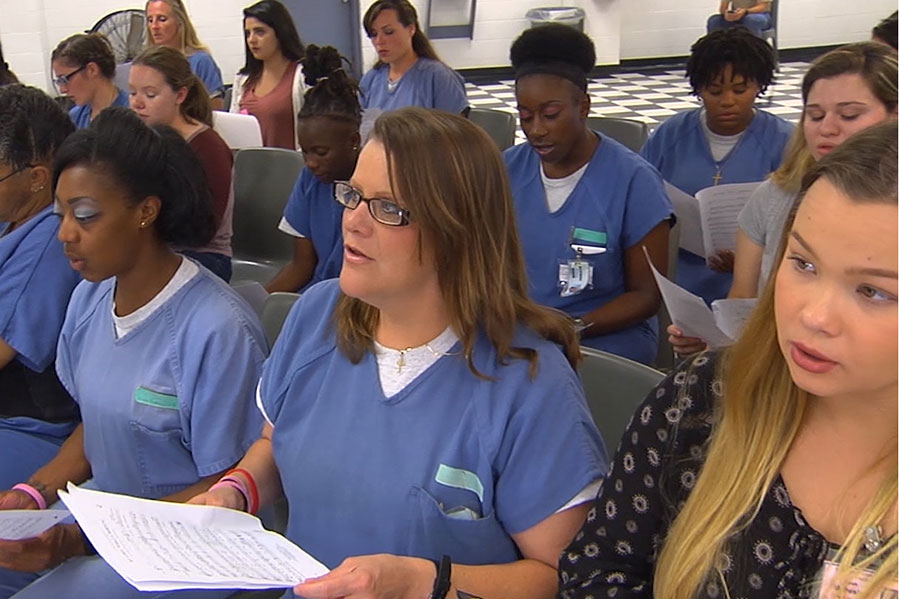 Mohesky wasn't sure what to expect when she made her first visit to the prison. What she found was a group of women who were eager to soak up the knowledge put before them.
"They're so smart," Mohesky said. "They want to learn so badly — they're like sponges."
Bowers teaches the choir a variety of different inspirational music — songs of strength and survival — from all over the world.
"The first time I saw Dr. Bowers with the women I was absolutely blown away," said Shelly Sonberg, warden of the Gadsden Correctional Facility. "This is not just a group of people who get together to sing. This is a true choir."
Sonberg, who has worked in corrections for 31 years, has more than a thousand volunteers come annually to Gadsden's facility, which is operated by the Management & Training Corporation (MTC). In that time, she's never seen the quality — and excitement — of a program like the one Bowers and FSU are providing.
"What she can do in an hour and a half with women who maybe have never taken a music class in their life or never thought they could sing — she teaches them how to read basic music, teaches them about theory, takes the time to talk about the origin of music," Sonberg said. "It truly is a learning experience for the women. That's just the beginning."
The music, including concert etiquette at performances, is only part of what Bowers teaches at choir practice. She also talks to them about life, whether it's discussing the characteristics of strong women or making positive choices or being a safety net for your family.
"That is what music is about," Bowers said. "It is about your emotions and connecting your experiences."
Many women arrive at the prison with self-esteem issues. When they join the choir, they aren't very confident in their abilities. It doesn't take long before those same women are sitting in the front row during rehearsal and doing solos.
"They may still be shy, but suddenly they are doing something that is deep, personal, intimate … and they're sharing," Sonberg said. "It takes a very brave person to stand next to someone else that you might not know and sing."

Bowers knows that singing in the choir gives the prisoners hope by allowing them to discover their emotions and humanity. She has had women tell her they want to sing in their church choir when they are released, or find a community choir to join.
While the prisoners undoubtedly benefit from being a part of the choir, FSU students are gaining teaching skills they probably couldn't learn anywhere else.
"I do know that what we are doing for the prisoners is good for them, but I'm going to tell you very selfishly that it is good for the FSU kids," Bowers said. "If you want people who understand developmental teaching and if you want them to have empathy, then they need these kinds of experiences."
Mohesky enjoys teaching at the prison — even more than at the local middle school — because the women are always enthusiastic to learn.
"I never thought I would be saying that a group of women's prisoners have inspired me so much," Mohesky said. "Being in prison is hard, and I think it takes a really strong, special kind of woman to come to rehearsal every week with a smile on her face. It means so much to me that they give it their all."
She said working with the women has put a lot into perspective for the students.
"We don't know why they're in there or what led up to them going to prison," Mohesky said. "It makes us think, 'how bad is our life?'"
Word has gotten out about the incredible work FSU's choral education program is doing with the choir at the Gadsden facility — officially known as the FSU-MTC Glee Club.
A local woman recently donated $7,500 to FSU so Bowers could buy a new piano for the choir — it arrived in time for their fall concert held Nov. 17.
The Tallahassee Community Chorus has contributed $25 gas cards to compensate the students for the cost of traveling to Quincy every week.
In addition, the Tallahassee Community Chorus invited the FSU-MTC Glee Club to participate in its annual Unity concert which will take place at 7:30 p.m. Saturday, Jan. 28, at FSU's Ruby Diamond Concert Hall. This year's theme is "Praise & Redemption —the power of song."
Because the prisoners cannot physically attend the performance, a video of the choir will be shown in their place. MTC sent a videographer to film the women, Bowers and her students in action.
"This is truly a win-win," Sonberg said. "It's a win for FSU, and it's a win for MTC. This is not done everywhere. This is exciting."
Bowers plans on continuing the FSU-MTC connection well into the future.
"As long as I'm here, I'm going to keep doing this," Bowers said. "I love nothing more than training teachers. I do research and publish it. I do love conducting choirs. But more than anything in the world, I love teaching and teaching those women. It is just amazing — it is the most fulfilling thing. It makes you get over yourself."