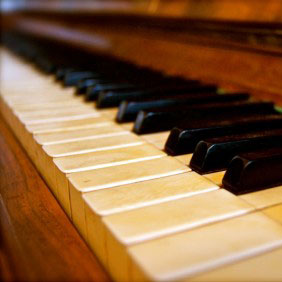 Tallahassee community members will have numerous opportunities to enjoy world-class performances as College of Music faculty present solo and chamber music during the Spring 2016 semester.
The college's annual Faculty Showcase Recitals are scheduled for Jan. 22, Feb. 12, and Feb. 26, at Opperman Music Hall. Recitals begin at 8 p.m., and are free and open to the public.
In addition to these events, several College of Music faculty members will also present their own solo or collaborative concerts throughout the semester.
The recitals, which also are free and open to the public, are:
Shannon Thomas, violin and Deloise Lima, piano
Saturday, Jan. 16, 4 p.m., Longmire Recital Hall
Violinist Shannon Thomas and pianist Deloise Lima join forces to present an eclectic recital of lesser-performed works for violin and piano, including Bach's florid Sonata in E Minor, BWV 1023. Thomas will also give the Tallahassee premiere of Fantasy for Solo Violin by Ellen Taaffe Zwilich, FSU's Francis Eppes Distinguished Professor of Composition.
Heidi Louise Williams and David Kalhous, piano
Thursday, Jan. 21, 8 p.m., Opperman Music Hall
Pianists Heidi Louise Williams and David Kalhous will perform Debussy's En blanc et noir, Schubert's F minor Fantasy D. 960, and Rachmaninoff's Symphonic Dances, Op. 45. Each of these deep and poignant works was written in the final stages of their respective composers' lives.
David Kalhous, piano and Benjamin Sung, violin
Saturday, Feb. 13, 7:30 p.m., Longmire Recital Hall
David Kalhous will also join violinist Benjamin Sung to present two of the most challenging works of the chamber music repertoire: Ludwig van Beethoven's powerful and expansive Kreutzer Sonata, and Mathias Spahlinger's extension, a complex, 55-minute work. Spahlinger is one of Germany's most renowned living composers and has been celebrated for the socio-political power of his works.
Patrick Meighan and Friends
Wednesday, Feb. 17, 8 p.m., Opperman Music Hall
Patrick Meighan, saxophone, will present a special recital of "music by friends, with friends" as a reflection on the dynamic collaborations he has enjoyed with colleagues over his forty-plus years on the faculty at Florida State University. Chamber music has been Meighan's preferred performance vehicle, and this recital will include chamber pieces for combinations of wind instruments by Paul D. Basler (University of Florida) and Daniel Fulmer (Edward Waters College), among others.
Joel Hastings, piano and Maureen Yuen, violin (SUNY Fredonia)
Wednesday, March 23, 7:30 p.m., Longmire Recital Hall
FSU faculty pianist Joel Hastings and guest violinist Maureen Yuen (SUNY Fredonia) will perform sonatas by César Franck and Gabriel Fauré. The program also includes Two Romances by American composer Carter Pann.