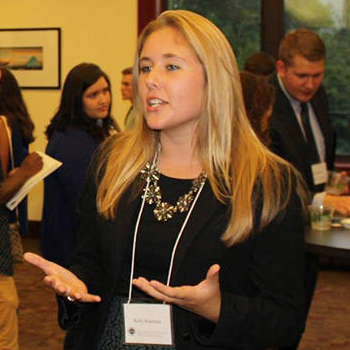 University campuses all over the country are filled with rich history, but how many students know that history?
Kelly Scandone, a junior at Florida State University, set out to answer that question for a project through Undergraduate Research Opportunity Program.
Scandone, a Tallahassee native who is majoring in art history and international affairs with a minor Museum studies, visited several universities with deep historical backgrounds to study how that culture is being shared.
For her hard work, Scandone won The John W. Day III Undergraduate Research Award, which she received at the President's Showcase of Undergraduate Research Excellence in September.
Scandone conducted her research under the guidance of Teri Abstein, an FSU academic director and curator for the school's museum.
"Kelly's research project on preserving and promoting university history is an excellent dovetailing of both her art history major and museum studies minor," Abstein said. "It is refreshing to work with a student that is as proactive and enthusiastic as Kelly, for both her research interest and the process itself. She is very dedicated and meticulous in her approach and actualization of the project."
Her enthusiasm turned into a summer research project that would help both students and college campuses.
"Over the summer, I looked at how universities across the Southeast implement their history and heritage, along with different methods used to communicate that with the people on campus," Scandone said. "I looked to see what was important about each school's history and what they would need to communicate."
The historical statues and fountains around Florida State's campus are what inspired Scandone to research other universities. FSU proudly displays its past at places like the Heritage Museum and landmarks like the Integration Statue.
"The Legacy Walk runs throughout campus and has markers that describe the different histories of the buildings on campus," Scandone said. "FSU has really diverse methods that impact our visual landscape. It's hard to find a corner that doesn't have a fountain, a statue or a plaque."
Scandone studied Florida State, Flagler College, the University of Georgia and the University of Alabama for her research project. Scandone had her sights set on Flagler College because of its past as a historic hotel, the University of Alabama because of its role in the civil rights movement and the University of Georgia because of its age and various traditions.
"I researched each university and mapped out the sites I wanted to visit, then walked through the entire campus," Scandone said. "I looked to see what was effective in showcasing their history and the ways they could improve. I put the findings together to distribute to other universities who may want to improve displaying their history around their campus."
These universities yielded positive results in the field of historical promotion on their campuses, but Scandone did discover that online resources could be improved. The accessible nature of online resources makes online development important for future students, according to Scandone.
Scandone discovered the Undergraduate Research Opportunity Program though her job as a university ambassador. She is also a member of the Lady Spirit Hunters and FSU's Mock Trial Team.
For more information on undergraduate research, click here.