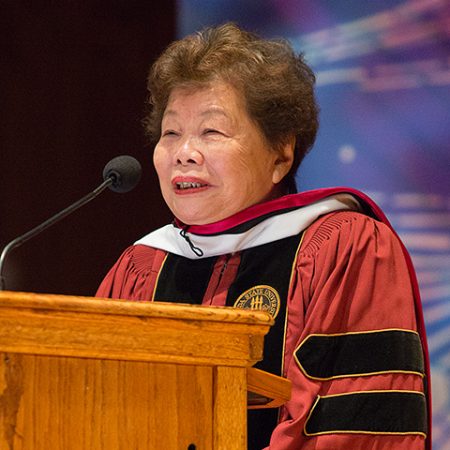 Florida State University granted an Honorary Doctor of Humane Letters degree Oct. 15 to local businesswoman and restaurateur Lucy Ho, who served as the costumer of the FSU Opera for 45 years before she retired in 2014.
Ho received the honorary degree during a ceremony in Opperman Music Hall on the very stage where the elaborate and beautiful costumes she designed and sewed were used in FSU Opera productions.
With praise for the people she has known and the part they played in her life, Ho was quick to share the spotlight on her distinguished career that was marked by competency, professionalism, generosity and decency.
"I really appreciate the people who helped me — otherwise, I couldn't have done this job," said Ho, referring to people such as Opera director Douglas Fisher, College of Music Dean Patricia Flowers and the college's past deans, and the managers and employees of her restaurants.
The degree citation recognized Ho for meeting and mentoring generations of Asian students entering FSU from abroad and for using her exquisite cooking skills to bridge cultures and build friendships, whether in the opera department or in one of her Tallahassee restaurants.
It also recognized her commitment to the FSU Opera through her establishment of the Lucy Ho Fund for Excellence in Opera, which supports scholarly activities and faculty enhancement and has become an important source of funding for FSU's opera productions. Ho's costumes remain part of the College of Music's costume collection.
"Thank you for sharing your creativity and generosity with Florida State University for so many years," said President John Thrasher. "We are proud to claim you as a distinguished member of our community and are indeed honored to have you as an exemplary member of our Florida State University family."
Thrasher conferred the degree upon Ho after she was presented for conferral by Graduate School Dean Nancy Marcus and the degree citation was read by Interim Provost and Executive Vice President for Academic Affairs Sally McRorie.
The ceremony featured remarks by Ho's son, John L. Ho, general manager of credit for the Americas for Mizuho Bank Ltd., a large bank in Japan; her son-in-law, Winston Leong, director of Fontana Enterprises Limited, a private investment company based in Hong Kong; and longtime friend and colleague Philip T.Y. Wang, director general of the Taipei Economic and Cultural Office in Miami.
Wang called Ho a "renaissance woman" who is like a sponge, absorbing everything she encounters from both Asian and Western culture. He also recalled being impressed by the close relationship shared by Ho and her late husband, Dr. John Ting-Jui Ho, who died this summer.
"They were still holding hands tightly like newlyweds after 27 or 28 years of marriage," Wang said. "I told my wife, 'This is what we need to emulate.'"
Leong praised Ho's unflappable can-do attitude. He also told a story about advice he had once given to a friend concerning the things he would encourage a daughter to pursue to find fulfillment in life.
"I told my friend that a daughter should do what she loves, learn more than one language and learn a skill that involves using her hands," Leong said. "I realized that I was describing my mother-in-law."
John L. Ho discussed his mother and late father's broad support of the Tallahassee community, including their support of the Tallahassee Museum, the local arts community and local schools.
"She has touched many lives," John L. Ho said.
He marveled over his mother's local celebrity, sharing how he has met many people over his life that did not know her personally, but knew her name or knew of her work with the FSU Opera or about her restaurants — and how they felt as though they knew her. He also met people who thought her name was an invention to add authenticity to a restaurant.
Ho praised his mother's deep interest in philosophy and cultures, which helped her develop an appreciation of all kinds of people and become a citizen of the world who never met a stranger.
"My parents taught me to treat people with courtesy and respect regardless of their station in life," he said.
Lucy Ho is the 128th person to receive an honorary degree from either Florida State University or one of its institutional predecessors since its founding 164 years ago.
Each year, the FSU Honorary Degree Committee, an advisory committee appointed by the president to represent the university community, considers nominations for an honorary degree. Any active or retired faculty member, member of the university community or friend of the university may suggest potential honorary degree recipients to the committee.
Nominations are considered at any time of the year. In general, the committee intends to honor people of outstanding achievement who have gained national or international recognition or made a significant scholarly, creative, public, business or humane contribution to the United States or to Florida State University.