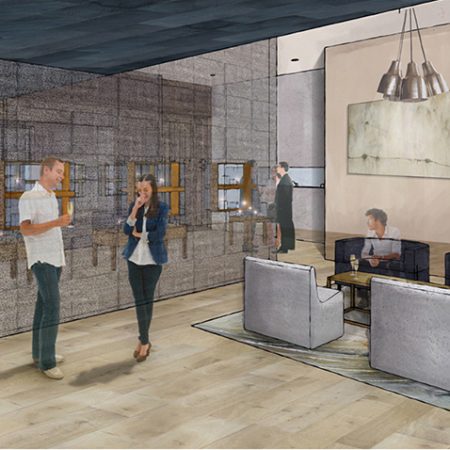 Florida State University interior design students Rebecca Thompson and Austin Gauley received second and third place awards, respectively, in the Retail Design Institute's 2015 International Student Design Competition.
The design challenge was toredesign and launch a new mid- to high-end, sustainably conscious and technology savvy prototype for a jewelry store located in Illinois.The intent was to align the store environment with the intended consumer journey and the new brand positioning. In addition, students were to create an effective design that conveys the refreshed brand to the guest along with innovation though merchandising, sales process and operations. The process included three phases: programming, concept design and final design development.
Thompson's concept focused on curiosity and warmth. She used translucent concrete partitions to produce sharp shadows. The low ceilings are clad in dark blue slate and glass jewelry boxes appear to perch within walls and partitions. She used a layered spatial arrangement of partitions and jewelry displays to create visual interest. The inclusion of a plush lounge area embraces the social aspects of shopping.
Gauley's inspiration was drawn from bars, lounges, and night clubs to establish a social exclusive atmosphere. Black and white was determined as a timeless and classic way of interpreting the after-hours ambiance. Interior elements including details, finishes, and lighting will all combine to create a luxury lounge that transcends other jewelry shopping experiences. To combine the top three factors into the design and concept, the customer experience and merchandise was fused. With touchscreen bars and tables customers can view products while conversing with each otherin their party or with a knowledgeable salesperson.
The Retail Design Institute is a not‐for‐profit, International Professional Retail Design Organization established in 1961. The institute invited all students presently enrolled in a recognized college level Architectural, Interior Design or Environmental Design program to participate in the International Student Store Design Competition.