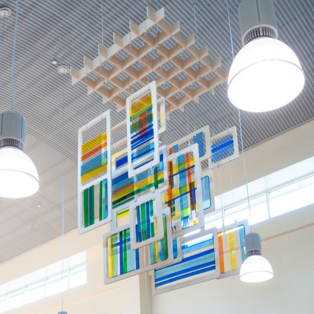 Three professors from Florida State University's College of Fine Arts provided interior design assistance and custom artwork for Tallahassee's Kearney Service Center —a new 36,000 square-foot emergency homeless shelter that opened April 5.
Professor Jill Pable and assistant professor Kenan Fishburne from the Department of Interior Design provided pro bono interior design consultation for the 220-bed facility that serves homeless men and women. The shelter includes lodging and dining spaces, a medical clinic, GED classrooms and case manager support.
Pable and Fishburne worked with the firm Clemons Rutherford and Associates Architects to offer guidance on color, lighting, interior finishes, art, furnishings and environmental signage. The concept for the facility is 'doorways to the future' which is expressed through signage and color specifications throughout the space.
Pable enlisted Department of Art associate professor Judy Rushin, also a local artist, to develop an original work for the center. Rushin created the sculpture titled "All Who Knock" to be the focal point of the 20-foot tall central atrium. The custom artwork is intended to bring hope and optimism to the residents of the facility.
"It represents doors and windows through a spectrum of colors, symbolizing how all who enter are moving toward a new phase in their lives," Rushin said.
Rushin fabricated the piece from bamboo plywood (Plyboo) at the FSU Facility for Arts Research.