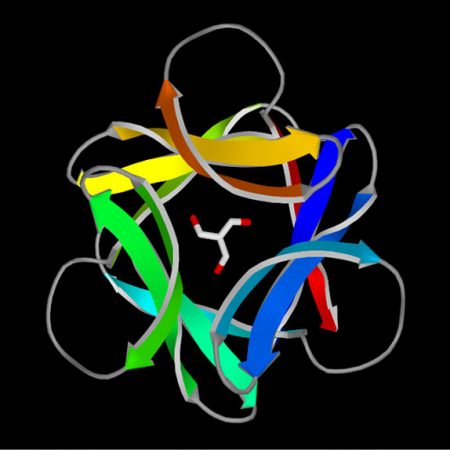 A new exhibit on Florida State University's main campus combines the world of detailed scientific research with the beauty and wonder of art.
Colorful representations of fruit flies, epithelial cell sheets and engineered proteins all grace the walls at the Dirac Science Library at the center of the FSU campus as part of a new Art in STEM Research exhibit that will be up for the rest of the year.
"Art is in the eye of the beholder," said doctoral student Jessica Martinez. "As people visit, they will say 'I didn't know you could capture this in art.'"
The exhibit was the brainchild of Martinez, who won the COMPASS Outreach Grant from the American Society of Cell Biology to conduct science outreach on the FSU campus. She had seen an exhibit at a conference of scientific images turned into artwork and thought the idea could easily be transferred to Florida State.
With the help of the Graduate Women in Science organization at FSU, Martinez spread the word to graduate students about the exhibit.
Thirty-one graduate students responded to the call for artwork from seven different departments. Biological and biomedical sciences, psychology, and earth, ocean and atmospheric science were all represented in the exhibit, as well as the Institute of Molecular Biophysics and the Geophysical Fluid Dynamics Institute.
Martinez said she wanted the exhibit to be fun for both scientists and non-scientists alike.
"The purpose is to educate the public about science," she said.
The exhibit also served as a competition for the participants. Seven faculty members served as judges and considered both the artistic merit and the science behind the pieces.
First-place winners Liam M. Longo and ConnieTenorio, graduate students in biomedical sciences, created an image featuring the secondary structure of an engineered protein named PV2.
Elias Nakouzi, a graduate student in chemistry and biochemistry, won the people's choice award for his image, which showed simple crystallization reactions.
To learn more and see some of the winning images, visit the Graduate School's website.