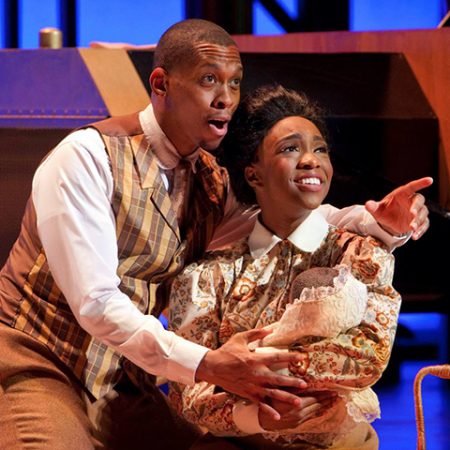 Some stories have a lasting power due to universal themes that will never cease to ring true to the human experience. FSU School of Theatre's production of"Ragtime," which opened Feb. 13 to a packed house, explores themes that we wish, in 2015, were not still quite so current.
With no idea what to expect of the musical, aside from what the name implied, I came into"Ragtime"expecting a lighthearted escapade of song and dance—a rousing musical with of turn of the century syncopated melodies and Gibson Girl hairstyles.
In many ways, it would have made for a more comfortable, settling viewing had the themes of racial prejudice, police violence, and class divides seemed so antiquated—but the production, which premiered on Broadway in 1989, and is based off the 1975 novel by E.L. Doctorow, seemed almost eerily current in light of current events.
Broadly speaking, "Ragtime"is the story of the American Dream, as the lives of poor immigrants, wealthy white aristocrats, and African Americans living in Harlem at the turn of the century all intersect as each group struggles to find justice and belonging in a changing society.
Written by Terrence McNally with music by Stephen Flaherty and lyrics by Lynn Ahrens, the opening number is almost tongue-in-cheek, but still powerfully highlights the obvious segregation and prejudice of the times. The wealthy elite of New Rochelle, all white lace and parasols, huddles apart from the African American Harlem community, who is congregates on their respective piece of the stage. Equally distanced is the crowd of recent immigrants.
The matriarch of wealth New Rochelle family, who is simply called "Mother", warns her son that one must always "stay on the right path." This clear pressure to adhere to society's rules becomes a common theme throughout the show, and becomes harder and harder for characters to adhere to as their lives and struggles come to affect one another, despite how hard they may try to stay within their lines.
If there is one constant in"Ragtime," it is the theme of unshakable hope and a trust that things will work out — even when the audience knows better than to be so optimistic. Tateh, a recent immigrant who has just arrived in America with his young daughter, wholeheartedly believes in the promise of a better life in America, and arrives full of optimism that he will find it. When the patriarch figure of the upper class white family sails off for a yearlong adventure to Antarctica, he is confident that "nothing will change" in his gilded life while he is gone. In African-American Harlem, Coalhouse Walker Jr. struggles to form a life for himself and the mother of his child despite the cruel injustices he faces, and still, he believes he will eventually find retribution.
We are disappointed along with the characters, as the vast majority of their hopes are crushed again and again, but still we hope, perhaps foolishly, up until the final seconds of the musical that justice will be served in at least some small way.
As is always the case, the acting, singing and dancing were the top-notch quality one can expect from FSU School of Theatre productions — with each role perfectly cast. In addition to the shining talent of FSU's Music Theatre majors, I came away impressed with the few younger cast members from the community, who were just as great in their roles as any of the child actors I've seen in Tony Award performances or even on Broadway.
If you've never attended a School of Theatre production, or simply want a taste of Broadway-caliber shows without taking a trip to New York, "Ragtime" runs until March 1 and tickets are still available. Visit http://www.theatre.fsu.edu/Performance-Season/Purchase-Tickets-Now to purchase tickets.
Emmy Schneider-Green is a graduate student in media and communications studies at Florida State.