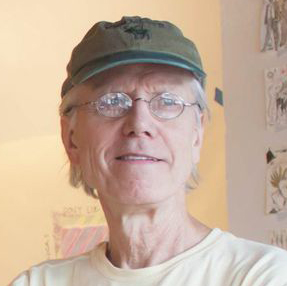 A Florida State University artist is on the road this summer offering free organic produce to those that participate in his Doodle Cart Tour.
"Do A Doodle And Get A Free Organic Fruit Or Vegetable" is the banner on Professor Paul Rutkovsky's Doodle Cart that is filled with watercolor pens, colored pencils and doodle paper. All are invited to draw a doodle and, in exchange, receive a free organic fruit or vegetable.
The tour has made stops throughout Tennessee and Kentucky this summer visiting college campuses, food co-ops and community events. Much of the schedule has been determined on the spur of the moment, and it "just keeps going on," he said. His tour will continue in the fall with stops at the University of West Georgia in Carrollton, Ga., and Young Harris College in Young Harris, Ga.
Rutkovsky, an associate professor of studio art at Florida State, insists that he isn't the art police; participants can draw whatever they wish.
"Doodling has a mindless meandering about it," Rutkovsky said. "Most people, young people especially, are really inspired by that because they are less inhibited."
Pesticide and GMO free, the organic produce is Rutkovsky's gift of appreciation to the doodlers and an effort to get everyone to establish healthier eating habits. The produce is donated by local food co-ops or personally purchased by the professor.
Rutkovsky has plans to broaden the cart to eventually include exercise and cooperation. He wants to incorporate a bicycle that when pedaled, powers a blender. That way, the doodlers can make smoothies and burn a few calories in the process.
"As a society, we're not very collaborative. Doodlers will have to collaborate because they each only get one fruit or vegetable. You have one mango, one apple, one pineapple — will they all agree to exercise a little to get a smoothie?"
From community gardens to festivals, Rutkovsky has been accompanying the cart to numerous Tallahassee events over the last three years. He's collaborated with much of the local community including The Sharing Tree, a reusable resource center, and iGrow, a youth empowerment and urban agriculture group based in Frenchtown.
Almost all of the doodlers donate their creations to Rutkovsky's future project, an exhibition of more than 1,000 doodles that he's collected over the years. Doodlers can also show off their masterpieces on the Doodle Cart's Facebook page.
To Rutkovsky, a doodle represents an educational opportunity and much more.
"What I love about doing the Doodle Cart is the general excitement that seems to happen when people explore and experiment with a doodle, and the realization that we're all creative — that's what powers me to continue."