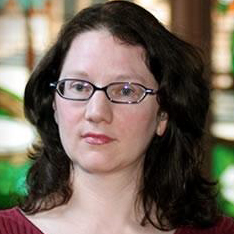 For as long as people have been lovesick, they've written poetry about it — even back to antiquity.
Florida State University classics Professor Laurel Fulkerson will spend a one-year sabbatical during 2014-2015 studying ancient poetry as the recipient of two prestigious fellowships, a Loeb Classical Library Fellowship and a Keeley Visiting Fellowship at Wadham College, University of Oxford.
The Keeley Visiting Fellowship will give Fulkerson temporary status as a senior member of Wadham College, granting her unlimited access to Oxford's libraries. Combined with the $35,000 stipend that comes with the Loeb Classical Library Fellowship, Fulkerson will be able to focus on researching and writing her latest book, a commentary on the "Corpus Tibullianum" (book 3).
Books 1 and 2 were written by the Augustan poet Tibullus, who is thought to have lived from 55 to 19 B.C. Book 3 is a collection of understudied poems written by "minor" poets, including six purportedly written by a Roman woman named Sulpicia.
"The poems in book 3 are a miscellany, and we haven't even been able to establish how many people wrote them, or when," Fulkerson said. "But they might just contain the vast majority of the Latin poetry written by a woman in antiquity."
The poems also have the potential, according to Fulkerson, to shed significant light on the genre of Latin love elegy — mournful or melancholy poems — as well as the genres and authors it influenced.
During her stay at Oxford, Fulkerson also will be in charge of running an eight-week seminar covering the "Corpus Tibullianum" (book 3).
"Oxford seminars usually feature a series of speakers, from locally and elsewhere, to present their ideas for discussion, so this will be an ideal opportunity to test my own ideas against those of others," Fulkerson said.
Daniel Pullen, professor and chair of Florida State's Department of Classics, praised Fulkerson as internationally renowned for her work in Latin poetry.
"Professor Fulkerson has risen rapidly through the ranks, excelling in teaching, research and service," said Pullen, citing the Loeb and Keeley fellowships as the latest in a long list of Fulkerson's awards, including a Developing Scholar Award and University Teaching Award from Florida State, a National Endowment for the Humanities Summer Stipend, and the American Philological Association's Award for Excellence in Collegiate Teaching.
"Within the department, we value her energy and enthusiasm — even when the task is revamping our entire Liberal Studies curriculum of over 15 courses for new state-mandated requirements," Pullen said
Fulkerson earned a doctorate in classics from Columbia University in 2000.
The Loeb Classical Library Fellowship, administered by Harvard University, is awarded annually to a select few individuals in the field of classics and archaeology. Previous recipients of the Loeb from the Florida State Department of Classics include Francis Cairns (2007-2008) and Pullen (2007-2008 and 2008-2009). The Loeb Classical Library was founded in 1911 by James Loeb to publish great Greek and Latin literary works with facing-page English translations to make them accessible for the average reader.
The Keeley Visiting Fellows, a competitive award across all disciplines and appointed based on departmental nominations, were created and endowed in honour of T.C. Keeley, a highly respected fellow in Physics who served Wadham from 1924 to 1963.