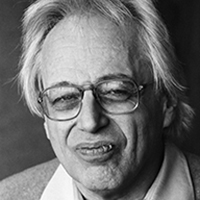 Florida State University celebrates one of the greatest composers of the second half of the 20th century with a three-day symposium and festival featuring musical performances, lectures and special guests.
The Ligeti Symposium and Festival is Oct. 10-12 and brings experts to campus to discuss the work of György Ligeti, whose eerie music can be heard in the films of Stanley Kubrick, including "2001: A Space Odyssey," "The Shining" and "Eyes Wide Shut."
It is the 90th anniversary of Ligeti's birth. "We didn't want to wait for the 100th," said Jane Clendinning, a professor of music theory in the College of Music and co-organizer of the Ligeti festival.
All lectures and performances are open to the public, and all events except one are free. The Oct. 11 Florida State University Symphony Orchestra performance at 8 p.m. in the Ruby Diamond Concert Hall is $9, $6 for seniors and non-FSU students and free for FSU students with ID.
Many of the world's outstanding Ligeti scholars are coming to Florida State for the symposium, Clendinning said. Speakers are traveling from Finland, England, Germany and Israel. Other guest speakers include Ligeti's son Lukas Ligeti, a renowned composer and musician; Ligeti's personal secretary, Louise Duchesneau, who will show rare film footage of the late composer; and Ligeti's biographer Richard Steinitz.
"His is a very original compositional voice," Clendinning said. Ligeti's music is quite varied, colored by the different time periods of his long, productive career and the constraints under which he worked, including communist restrictions.
To say Ligeti had an eventful life is an understatement. He was born in Romania in 1923 to a Hungarian Jewish family. He lived in Hungary before becoming an Austrian citizen. Ligeti studied music, but his education was halted when he was sent to a forced labor camp in 1944. His brother was deported to the Mauthausen concentration camp in Upper Austria and his parents were sent to Auschwitz. Ligeti's mother was the only other survivor of his immediate family. Ligeti also lived through the Hungarian revolution of the late 1950s.
Ligeti died in 2006 in Vienna at age 83.
His list of works includes masterpieces of choral and orchestral music, concertos, exquisite chamber music, keyboard solo works, and "Le Grand Macabre," a spectacle of an opera, completed in 1977.
Ligeti's compositional influences span from early contrapuntal music to late 20th-century avant-garde styles, electronic music and minimalism and embrace both Western music and a variety of world music, from Transylvanian folk songs to the hocket of the Aka pygmies of the Congo, from Cuban dance music to Indonesian gamelan.
The festival features College of Music performers playing Ligeti's "Horn Trio," "Three Pieces for Two Pianos" and "Piano Etudes," a cycle of 18 etudes for solo piano that won the prestigious Grawemeyer Award and has achieved solid establishment in the piano repertoire despite its virtuosity and complexity.
Visit the College of Music online for a full schedule of events and lecture topics. ContactClendinning at (850) 644-4063 or jclendinning@fsu.edu for more.