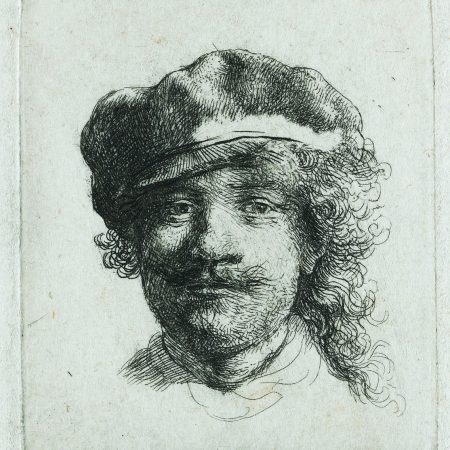 A singular opportunity awaits art and history lovers at Florida State University's Museum of Fine Arts.
Thousands of people have already visited the museum to view artwork from the largest privately owned collection of Rembrandt etchings in the world.
Florida State University President Eric J. Barron and Vice President for Research Gary K. Ostrander hosted the recent opening of "A Fortnight of Rembrandt: Selected Etchings from the Mower Collection."
The special two-week exhibition of the Dutch master's works is free and open to the public. The Office of the Vice President for Research is sponsoring the exhibition.
"It's usually one or two at a time," Barron said of the exquisitely detailed Rembrandt van Rijn etchings on loan from philanthropists Drs. Tobia and Morton Mower of Baltimore.
The Mowers attended the opening ceremony to talk about art collecting and cut the ribbon that formally opened the display of more than 60 original Rembrandts.
The exhibition is the caliber of what one would expect to see in Paris or London, Ostrander said.
The prestigious display is a perfect fit for Tallahassee, Barron noted at the exhibition opening on Sept. 20.
"We have a community that truly appreciates the arts," he said.
Several dozen people got a first look at the artwork after the welcoming remarks. Most of the 17th century artist's etchings are small in size but overwhelming in detail and subject matter, which ranges from the raising of Lazarus to Christ's descent from the cross to landscapes and self-portraits.
The Mowers have collected original works of art for decades, said Tobia Mower, with the Rembrandt collection taking shape over the course of about 15 years.
Their curator Aaron Young, also in attendance, helped bring the Rembrandt collection to FSU.
In the early days the Mowers stored unframed Rembrandts in a careful pile under their bed. They enjoy lending their art for the public to view, and now have works framed.
"We always have them ready to go," Tobia Mower said.
The couple also collect works by the great Impressionists, including Pierre-Auguste Renoir and Edgar Degas.
Featured in the Rembrandt collection at Florida State is a lone print by Pablo Picasso. Created in 1934, the homage to Rembrandt is titled "Rembrandt et tetes de femme" (Rembrandt and women's heads).
"Picasso was not a nice person," Tobia Mower said. The Spanish painter and sculptor respected only two artists, she said — Rembrandt and himself.
The Rembrandt exhibition is on display through Sunday, Oct 6.
The museum, at 530 W. Call St., is open to the public 9 a.m. to 4 p.m. Monday through Friday, with extended hours until 7 p.m. on Thursdays; 1 to 4 p.m. Saturday; and 11 a.m. to 4 p.m. Sunday. Admission is free.
Call the museum at (850) 644-6836 for more information.