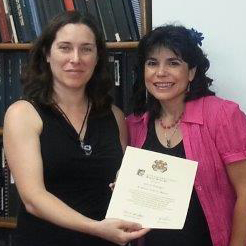 Florida State University Spanish language student Estrella Rodriguez, president of the university's chapter of Sigma Delta Pi, the national collegiate Hispanic honor society, received the society's prestigious Gabriela Mistral Award for her academic achievements in Spanish and her noteworthy leadership and initiative in the chapter.
Florida State modern languages and linguistics Associate Professor Carolina Gonzalez, the chapter's adviser, presented Rodriguez will a certificate of award June 25.
The Gabriela Mistral Award is granted by Sigma Delta Pi's national executive committee and may be presented to only one person per chapter. The honor is reserved for outstanding graduate or undergraduate students of Spanish who are active members of Sigma Delta Pi. For past honorees, click here.
Established in 1919 at the University of California, Berkeley, Sigma Delta Pi honors those who have completed three years of study of college-level Spanish, including at least three semester hours of a course in Hispanic literature or Hispanic culture and civilization with a minimal grade point average of 3.0 in all Spanish courses taken. Candidates must also rank in the upper 35 percent of their class — sophomore, junior or senior — and must have completed at least three semesters or five quarters of college work. Graduate students also can be elected to membership upon completion of two graduate courses in Spanish with an average which, if continued, will make them eligible for a graduate degree.
With 594 chapters nationwide and its national office at the College of Charleston, S.C., Sigma Delta Pi is a member of the Association of College Honor Societies, the nation's only certifying agency for college and university honor societies.