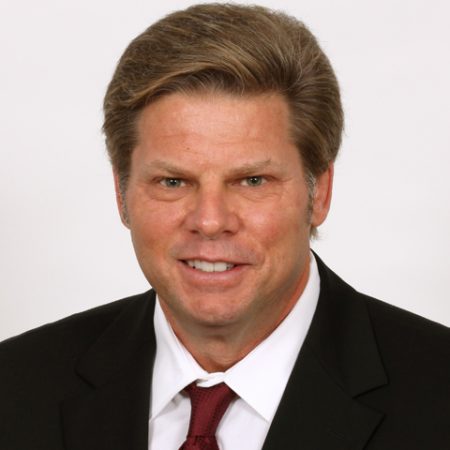 Seminole Productions Executive Director Mark Rodin will be honored by the Sports Video Group with its 2013 College Sports Summit Pioneer Award in Atlanta on May 29.
In more than 20 years at Florida State, Rodin has developed a reputation throughout the sports video industry as a forward-thinking risk taker who is always on the cutting edge of broadcast technology and video production. In fact, Rodin is pioneering the use of 3-D stereo video in sports applications. He is currently doing research on the application and uses of 3-D stereo video for coaching and sports production.
"We are very proud of the work Mark does with Seminole Productions and truly believe his 2013 SVG College Sports Summit Pioneer Awardis well deserved," said FSU Athletic Director Randy Spetman. "Mark is at the forefront of his profession and continues to push the envelope as we have seen recently with his use of 3-D technology for not only production but also to help with coaching."
College of Communication and Information Dean Larry Dennis echoed Spetman's sentiments about Rodin, who is a faculty member in that college.
"Mark has been a leader and a pioneer in many ways," Dennis said. "Not only did he build Seminole Productions into one of the nation's best sports media programs, but he was able to leverage his work for FSU's sports programs to create one of the top sports broadcasting educational programs in the country. And more recently he has helped the college create the very first 3-D television educational program in the world."
One of Rodin's first productions at Florida State was a behind the scenes documentary on newly hired basketball coach Pat Kennedy called "Pat Kennedy: Beginning of an Era."
Rodin quickly became known for his innovative approach to video production and soon began producing all the videos for Bobby Bowden and the Florida State football program. In 1989 he oversaw the football coaches' conversion from film to video and took over the day-to-day operation of the coaches video department. In this role, Rodin made the conversion to computerized scouting systems.
In 1999, Rodin oversaw the installation and operation of the university's first video board at Doak Campbell Stadium. In 2006, Seminole Productions moved into a state-of-the-art production facility in the newly remodeled Moore Athletic Center, which Rodin helped plan and design. In 2008, he was instrumental in the design, planning and implementation of an upgraded control room and new video and ribbon boards in the football stadium.
A 1987 graduate of Florida State, Rodin earned a bachelor's degree in media production and was named "Most Outstanding Media Production" student in 1986 and 1987.