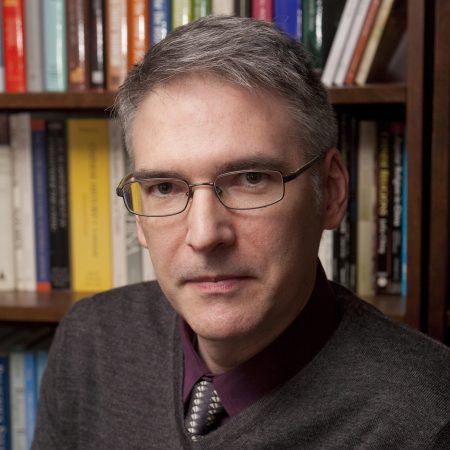 A Florida State University scholar in Asian religious traditions is the recipient of a prestigious 2013 National Endowment for the Humanities fellowship that will enable him to complete the first full translation of the biography of a major figure in Tibetan history.
Bryan J. Cuevas, the John F. Priest Professor of Religion in the College of Arts and Sciences' Department of Religion, will use the $50,400 grant provided by his NEH Fellowship for University Teachers to translate from Tibetan into English the biography of one of Tibet's most controversial Buddhist saints, Ra Lotsawa Dorje Drak, often referred to simply as Ralo.
Ralo's life story, formally titled "The All-Pervading Melodious Drumbeat," was compiled in the 12th century A.D. and is one of the oldest surviving narratives of the Buddhist saints of Tibet. It has never been translated into any other language from its original Tibetan.
"Those of us in the Department of Religion are very pleased to see our colleague receive this prestigious award in support of his work," said department chair John Kelsay, the university's Richard L. Rubenstein Professor of Religion and Bristol Distinguished Professor of Ethics. "Bryan Cuevas has made a number of noteworthy contributions to scholarship through the years. As well, he is an integral part of the departmental program, particularly in the area of Buddhist Studies. His translation of the biography of Ralo will only strengthen an already excellent record of achievement."
Penguin Classics will publish the translated biography in late 2014 or early 2015.
"Among the most illustrious Buddhist saints of Tibet, Ralo stands tall as one of the most notorious figures in the history of Tibetan Buddhist culture, equal in celebrity to Tibet's beloved poet Milarepa (1040-1123 A.D.)," Cuevas said. "But whereas Milarepa is viewed as Tibet's ideal Buddhist contemplative yogin (a master of yoga), who in a single lifetime transformed himself from great sinner to great saint, Ralo is his shadow double."
Was Ralo, who was born in 1016 and died around 1100 A.D., an enlightened saint or a murderous villain? Nearly 1,000 years later, the answer to that question is still somewhat ambiguous. According to legend, he killed more than a dozen Tibetan lamas, or Buddhist high priests — many of them famous and with large numbers of followers of their own.
But according to texts of the Yamāntaka and Vajrabhairava traditions of Buddhist practice that he brought from India and Nepal, translated and then popularized in Tibet, Ralo was compelled to "liberate" those who were on the wrong path so that they could eventually reach a state of enlightenment. Faithful supporters viewed Ralo's actions as heroically virtuous, both because they served to promulgate a "truer" Buddhism and to subjugate his enemies.
Cuevas said his translation of "The All-Pervading Melodious Drumbeat" will challenge popular and overly romantic conceptions of Buddhism as a thoroughly pacifist and non-violent religion.
"The topic of Buddhist violence has been attracting a growing audience in recent years, and a few excellent books on the topic have now appeared," he said. "To date, however, there have been no sustained scholarly studies on the history of Buddhist sorcery and ritual magic. Buddhist sorcery has been a legitimate expression of religious and political action throughout Buddhist history. In Tibet, magic and spiritual warfare have been inextricably tied to conventional Buddhist forms of ritual action and deeply embedded in Tibetan religious ideology."
Readers of Ralo's translated biography, Cuevas said, will discover "extravagant accounts of Ralo's magical exploits, as well as the more conventional episodes in the life of a Buddhist saint —wondrous birth, remarkable childhood, quest for the guru, enlightenment, meritorious works and expansive preaching career.
For those who wonder why the study of Asian religious traditions, particularly those of Tibet, is important, Cuevas has a ready reply.
"Tibet is in a very strategic position in the world, located right between Russia, China and India," he said. "Therefore, it's important that we develop a more three-dimensional picture of the history and cultures of the region. A significant part of that involves placing a greater value on Asian literature and religions, which is what I'm seeking to do."
In addition to his current NEH-funded project, Cuevas is the book-review editor for the Journal of the International Association of Tibetan Studies, an online journal published by the Tibetan and Himalayan Library. He also serves on the editorial board of the Journal of the American Academy of Religion.