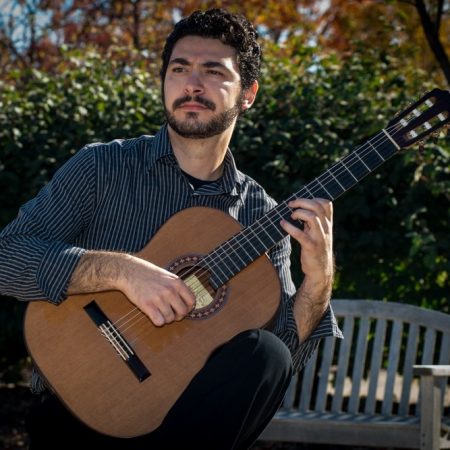 Florida State College of Music doctoral student Silviu Octavian Ciulei makes beautiful music far from his native land.
Born in Constanta, Romania, an ancient port city on the Black Sea, Ciulei began studying music in earnest when he was just 6. Encouraged by his parents, who noticed his blossoming talent at a young age, he studied guitar performance and music at a prestigious high school for the arts, where he also studied languages. (He speaks five languages fluently.)
By 13, Ciulei won his first prize in guitar performance, at the Romanian National Music Olympics, and performed his first concerto with the respected Black Sea Philharmonic Orchestra.
"The guitar was always my first instrument," he said. "I love the guitar very much because it's been with me through hard times, and it's never let me down. Plus, it's about the only thing I really know how to do well in this world."
Ciulei's exquisite classical guitar performance recently landed him first-place honors in what is considered one of the most pre-eminent competitions in the world: the Indiana International Guitar Festival and Competition at Indiana University's Jacobs School of Music.
"With this recognition, Ciulei has firmly established himself as the rising artist-performer of the first rank," said Don Gibson, dean of the Florida State College of Music. "I am delighted for him and for his remarkable teacher, Associate Professor Bruce Holzman."
Ciulei received the competition's top prize of $1,500 plus a sponsor prize of a handmade guitar by world-renowned luthier Kolya Panhuyzen, valued at $12,000.
"The Indiana Guitar Festival andCompetition is one of the greatest newer guitar competitions in the United States and the world, and winning the grand prize there has been just wonderful," Ciulei said. "I am sure it will help my career as a rising guitarist and musician."
Since coming to the United States in 2004, Ciulei has won an impressive collection of prizes and has performed in master classes for many renowned artists.
This year, he also won first prize at the Columbus Guitar Symposium and Competition in Columbus, Ga., and the Appalachian GuitarFest in Boone, N.C. He was awarded second prize in the Texas International Guitar Competition and Festival in Dallas and the East Carolina Summer Guitar Festival in Greenville, N.C., and third prize in one of the most prestigious competitions in the world, the Guitar Foundation of America International Concert Artist Competition, held this year in Charleston, S.C. He also won third prize in the Schadt String Concerto Competition in Allentown, Pa.
Though his homeland has always proved a major influence on his music (Romania is a place filled with "talent, history and emotion," he said), he also studied flamenco guitar for several years in Spain. Ciulei now plays in a flamenco music group called the Maharajah Flamenco Trio, which travels around the country playing shows and concerts at festivals. Last summer, the group successfully toured the East Coast from Florida to New York City. The group also plays locally in Tallahassee.
Ciulei earned a Bachelor of Music degree from Middle Tennessee State University, where he studied guitar performance with William Yelverton, who is a graduate of the FSU guitar department. Ciulei then came to Florida State himself, where he earned his master's degree in guitar performance before beginning his work on his doctoral degree. Ciulei expects to graduate this spring with his doctorate in guitar performance.
"I chose FSU because it offered the top guitar program in the States and because of Bruce Holzman — he's the best," Ciulei said. "Also, it is such a well-known place for music, one of the best in the country by far."
For more information, contact Gibson at (850) 644-4361 or dgibson@admin.fsu.edu