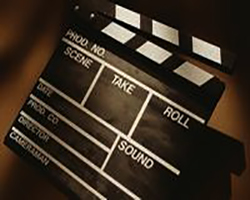 The innovative Torchlight Program of Florida State University's College of Motion Picture Arts has been chosen to lead a major marketing effort to inform film school students and faculty members across the nation about a short-film contest with a $100,000 grand prize.
The $200,000 Focus Forward Filmmaker Challenge, which is part of General Electric Co. and Cinelan's Focus Forward Short Films/Big Ideas professional filmmaker series, invites students and filmmakers to create a three-minute non-fiction film about visionaries who are changing the world with their inventions and innovations. Cash prizes will be awarded to the top five entries in the professionally juried contest.
"This will be the largest cash prize ever awarded to a short documentary film," said Frank Patterson, dean of the college. "What's more, Focus Forward has created a cool ecosystem for filmmakers in universities across the nation — students, faculty and alumni — to create and share their works, and to enjoy the possibility of distribution, all while shedding light on ways people are reshaping the world."
In order to get the word out about the contest, Florida State students will use a variety of social media platforms. In the process, they will learn marketing skills that are crucial to the film industry.
"This is exactly the type of opportunity that was envisioned when we conceived the Torchlight Program — bringing the film industry and education together to expand the voice of independent cinema," said Paul Cohen, executive director of the Torchlight Program. "Our students will be immersed in the process of creating a multiplatform social media initiative surrounding the Focus Forward contest and films."
The Torchlight Program enhances the education of Florida State's film students by providing instruction in current and emerging business practices of the film industry.