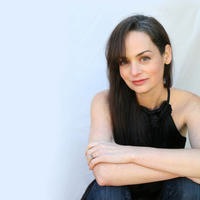 Julianna Baggott is a writer's writer:
She keeps pen and pad bedside to capture stray thoughts at dawn; a computer file of ideas and writing projects she hopes to complete in the next few decades; and prefers to write at home in a slant-roofed nook where she can keep an eye on her kids and still retain some semblance of solitude.
With 18 books to her credit, Baggott's beautifully crafted post-apocalyptic novel "Pure" was published in February and is already turning heads: The film rights to the book — the first in a projected trilogy — have sold to Fox 2000 Pictures with a "Twilight" saga producer at the helm.
The New York Times Book Review just featured a glowing, full-page review of "Pure," lauding the "exquisite precision" of Baggott's prose. The Times has also tapped "Pure" as one of its coveted "Editor's Choice" books, and it's been chosen as a Publisher's WeeklyStarred review, as well as a Starbuck's Digital Book Club pick and a Library Journal "Break-Out Novel" for February 2012.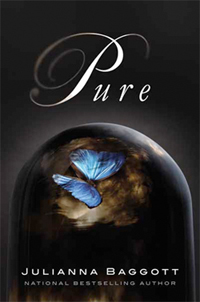 At 43, Baggott, an associate professor in Florida State University's creative writing program, is already known as a prolific author with an impressive, ever-growing body of work. She can get by for a few days on scraps of sleep, has learned to write while tired (she describes it as pushing through a piece of wood in her head) and keeps her writing projects moving at gale force: "I don't want to be one of those old women with stacks of ideas that I never got to," she said.
As a professor of creative writing, her days are filled with teaching and writing, both extensions of her talents and interests, not unlike professors who teach in the sciences and then head straight to their labs.
Baggott compares her student workshops to organisms, "not too unlike the workings of a writer's brain," she explained.
Each class is a creative, generative place, she says, where students and teacher collaborate and map novels together and, where they can see "me and my brain at work — I want them to have that experience."
Baggott, a respected poet, short story writer, novelist, essayist and author of a bounty of highly successful young-adult fiction, has spent years immersing herself in the daily, disciplined solitude of writing, a process she refers to as "rowing." She says she has little patience for people wanting a quick fix for penning a best-seller, but she will "drop everything" when a student calls for help with a project.
Poetry is her not-so-secret passion, and high on her pleasure-reading list are works by Canadian novelist Margaret Atwood (yes, she's an amazing poet, Baggott raves). Her "to-do" reading mostly consists of student writing and necessary non-fiction reads — everything from science to history, depending on what book she's working on.
When she arrived at FSU in 2004, the job meant security in a top-notch creative writing program. It also offered her the chance to work with student writers, something she loved — and often longed for.
"Writers' work is very solitary, so I've always loved the classroom and teaching," she said. "I sometimes have a deep feeling of not being of 'use,' but in the classroom I always have that feeling of use."
In the fall, Baggott officially embarks on a new teaching gig: At Florida State, she will leave the English department for the College of Motion Picture Arts, where she'll teach screenwriting and narrative.
The departmental switch also comes with a real-life move: Baggott and her husband are relocating with their children to New England. The move has as much to do with family issues as it does with career. Living closer to New York will make life easier for Baggott, who lately has been working closely with members of the film industry (she wrote the compendium to the movie "Mr. Magorium's Wonder Emporium" and has had other books in various stages of film-rights acquisition).
FSU's film school is so technologically adept at distance learning, she says, that it will make teaching her classes (she'll teach in person at the semester's start and later by distance technology) an easier transition.
"Story is story no matter what the medium — it's just a matter of telling it in a different way," she said, noting that she likes to call screenplays "plot poems."
The takeaway? "Working in different genres teaches a writer something new," Baggott said, "and enriches whatever genre they are currently working in."
For additional information, contact Baggott at (850) 644-4230 or jbaggott@english.fsu.edu.