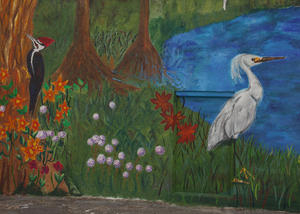 Colorful and familiar turtles, alligators, cypress knees, lily pads and white cranes are visible throughout the 2,300-square-foot mural on Tallahassee's Gaines Street — a largely volunteer project designed to capture the lively essence of the Florida landscape and wildlife.
Florida State University's Department of Art Education recently collaborated with the university's annual Seven Days of Opening Nights festival to create a massive mural on the side of the old Carlstadt Building.
The expansive outdoor painting depicts a detailed and vibrant nature scene that uses an extensive, 29-color palette.
Rachel Kosberg, a senior at Florida State, is one of the artists who worked on the project.
"As I stood back and looked at the brilliant tree that my friends and I added to this mural," Kosberg said, "I felt grateful to be a part of something much bigger than myself, to be a part of the Tallahassee community, to help in creating a beautiful lasting memory."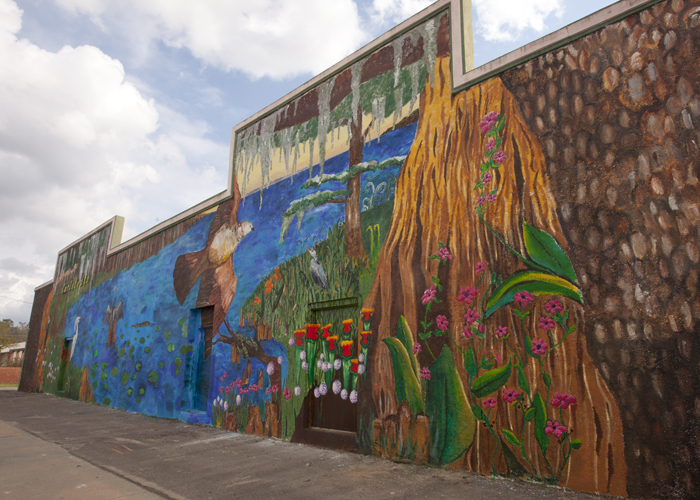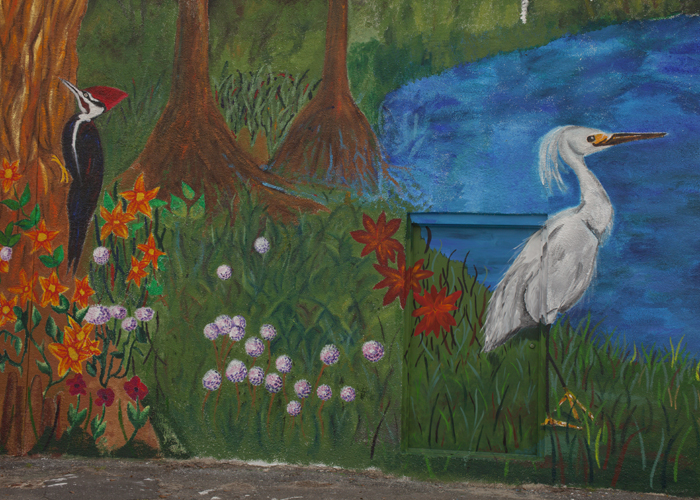 Florida State faculty and graduate students oversaw the project and encouraged volunteers from the Tallahassee area to join in on the effort. SAIL High School, Pyramid Studios and other local schools and organizations all loaned volunteers who helped paint.
Michael Sperow, a Florida State graduate student studying art education, said he loves meeting new people and coaxing them to pick up a paint brush for the first time in their lives.
"Once they get a brush in their hand and they're painting on the wall, then they step back and look at it and now they're an artist," Sperow said. "They get that confidence that they did that and then they can come back here a week, a year or 10 years from now and say 'Hey, I'm an artist.'"
Dave Gussak, chairman of the Department of Art Education, said he believes that the mural project is a great way to bring both the Tallahassee community and the Florida State community together.
"The students are extremely engaged in this, and they love the idea of the community coming out and being a part of this," Gussak said. "And to me, this is the perfect way to bridge the university and the community to show that this belongs to all of us."