He was America's first explorer; an associate of such historical figures as Thomas Jefferson, Benjamin Franklin, Thomas Paine, John Paul Jones and the Marquis de Lafayette; and the writer of the first U.S. book ever protected by copyright. But for more than 150 years, the exploits of John Ledyard have been lost to history.
Now, Ledyard's extraordinary story is re-emerging from obscurity, thanks to a new book by a Florida State University scholar. Edward G. Gray, an associate professor of history at FSU, has written "The Making of John Ledyard: Empire and Ambition in the Life of an Early American Traveler." The book, published by Yale University Press, has just appeared in print.
"John Ledyard appealed to me in part because his experiences were almost too amazing to be believed—yet no one has ever heard of him," Gray said. "So this was a great opportunity to restore a remarkable figure to the historical record."
As Gray's book shows, Ledyard's life began normally enough. Born in Groton, Conn., in 1751, he was sent off to acquire an education at the then-new Dartmouth College in New Hampshire in 1772. But soon finding himself broke and restless, he decided to leave the academic life behind.
"Evidently the life of a college student was a bit too constricting for his tastes," Gray said. "So the following spring, Ledyard left Dartmouth, made himself a dugout canoe and paddled it down the Connecticut River."
That trip became the first of many adventures for the young Ledyard. He soon found work on a ship hauling dry goods to Gibraltar, the Barbary Coast and the Caribbean. On his second voyage, he jumped ship in England, but was pressed into service in the British Navy.
From 1776 to 1780, Ledyard took part in the final Pacific voyage of
the famed English explorer Captain James Cook, who became the first Westerner to see the Hawaiian Islands–which he promptly named the Sandwich Islands after the fourth Earl of Sandwich. Also during the epic journey, Ledyard became the first American to see the Pacific coast of North America. In addition, he was on hand when Cook was killed by Hawaiian natives in 1779.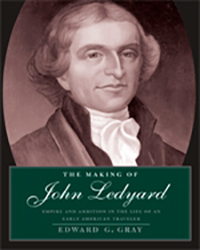 Still a British marine, Ledyard next was sent to the American colonies to fight in the American Revolution. Instead, he deserted– and began writing about his travels. In 1783, Ledyard's "Journal of Captain Cook's Last Voyage," an account of the four-year journey, was published. Because federal copyrights didn't yet exist in the United States, Ledyard's book was protected by Connecticut state copyright–another first for the new country.
Next, Ledyard headed to Europe to find backers to establish a fur trade on North America's Pacific coast. In Paris, he met with Revolutionary War heroes John Paul Jones and the Marquis de Lafayette. Unable to find support for his ventures, and with the encouragement of Thomas Jefferson–then the U.S. ambassador to France–he settled on a new goal: becoming the first person to traverse North America.
Rather than setting off from the East, as Lewis and Clark later did successfully, Ledyard sought to cross the continent by walking eastward from Stockholm, Sweden, across Russia and Siberia, crossing the Bering Strait to Alaska, then pioneering a route across the North American continent to Virginia. However, his one-man journey ended a year later when Russian forces loyal to Catherine the Great arrested him in Irkutsk, Siberia, accusing him of being a spy. He was subsequently banished from the country.
"In many ways, John Ledyard personified the restless American spirit," Gray said. "But what most interests me about him is the way his life reveals the diverse contours of empire in the era of the American Revolution. From Siberia to New England, from the Pacific Northwest to Hawaii, Ledyard traversed the far fringes of 18th-century European colonialism."
A final journey, begun in June 1788, would be Ledyard's last. On an expedition to explore the interior of the African continent, he suffered a digestive ailment. His attempt at self-medication, by swallowing sulfuric acid and tartar emetic, eventually claimed his life in January 1789. John Ledyard was 38 years old.
"His was an extraordinary life," Gray said. "Not only his adventures, but also his contacts with many of the great men of his time, made him a pretty unique figure in early American history. But he was also representative of a particular type of person, a person whose opportunistic attitude helped extend European dominion around the globe."