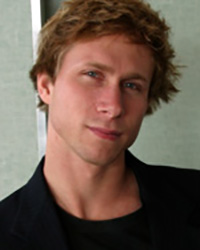 The Center for International Disaster Information has awarded first place in its "Lights, Camera, Action" Public Service Announcement contest to Evan McNary, a graduate student in the Florida State University College of Motion Picture, Television and Recording Arts—better known as the Film School.
In early June, the PSA will premiere on mtvU—MTV's 24-hour college network, broadcast to more than 730 campuses and nearly 7 million college students nationwide—as well as broadband channel mtvU Über at mtvU.com. McNary is a second-year Master of Fine Arts student at the Film School. He received a prize of $7,500 for winning first place.
Each winning PSA demonstrates the student's ability to create an effective and unique 30-second message for television that will help raise awareness for international disaster relief and emphasize the importance of cash donations over in-kind gifts. As Americans respond to the earthquake in Indonesia and prepare for the start of hurricane season, the winning PSAs are designed to serve as compelling tools in educating the public about international disaster relief response and about appropriate donations. It is widely recognized that cash donations are the most efficient and effective means of response.
McNary's entry, "Cans," visually illustrates an original approach to communicating the need for appropriate disaster response. The PSA depicts what the world would be like if cans were the main source of currency and demonstrates how difficult it is to transport and use cans in a variety of situations, from paying for groceries to helping disaster victims. It also demonstrates that canned foods may not be what disaster victims actually need or want. This creative piece impressed both the judges and public voters who praised the entry for its unique depiction of the disaster relief challenge.
Chris Palmer, an award-winning environmental filmmaker and professor at American University in Washington, D.C., spearheaded a team of four judges, including CIDI Director Suzanne Brooks and Tony Stitt and Nazik Salih from the United States Agency for International Development. The judges selected the five finalist PSAs based on overall impact, originality, memorable content and delivery and clear message.
"Evan is a remarkable film student, recognized by the faculty for a sharp wit and keen eye," said Film School Dean Frank Patterson. "It is no surprise to the faculty that he is being honored with this important award."