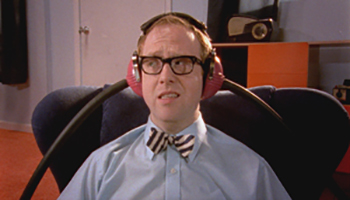 In the winning tradition of Florida State University's College of Motion Picture, Television and Recording Arts—best known as The Film School—three of its recent graduates and a pair of short films they produced as FSU students have earned top awards from the Academy of Television Arts and Sciences (ATAS).
The trio will claim their prizes on March 19 at Culver Studios in Los Angeles when ATAS presents its 27th Annual College Television Awards. Each year, the invitation-only gala seeks to spotlight the role of the producer in the filmmaking process.
"These are three remarkably talented graduate students whose careers have just been jump-started by a distinguished recognition from the Television Academy," said Film School Dean Frank Patterson. "These latest awards give our school a total of 21 top honors from the Academy in 15 years, providing yet another indication that Florida State is clearly a leader in U.S. film education."
Beating out myriad entries from prestigious film programs across the country, FSU alumna and emerging producer Shannon Gregory will accept the 2006 "First Place Comedy" honor for "The Problem with Fiber Optics." The award for best music in a film will go to fellow alumni Tiffany M. Moore and Max Valverde-Soto, co-producers of "Tycho's Nova." Both videos—20 minutes and 15 minutes long, respectively—began as master's thesis projects for the former Film School students, who each earned a Master of Fine Arts degree in August 2005.
FSU can take multiple bows for "Tycho's Nova." Its original score was composed by pianist and FSU College of Music alumnus Alex Davis and its lyrics were written by FSU Music alumna Olivia Swedberg.
Along with an all-expense paid trip to Los Angeles, each ATAS College Television Award winner receives a cash award, mentoring from television professionals, and a product grant for film stock from Kodak. In addition, top finishers get to showcase their films for industry bigwigs and a national cross section of film students and faculty during the ATAS Foundation's College Television Awards Festival, to be held March 20 at the Leonard H. Goldenson Theatre in North Hollywood. The public screening will include the winning works in their entirety and montages of the second- and third-place videos.
Gregory's "The Problem With Fiber Optics" is set in a hyper-realistic 1961 and features Sheldon, a shy 30-year-old fountain boy who purchases a memory implant of a sexual encounter with a seemingly random woman to boost his confidence. Unfortunately, the shocking side effects turn his once-dull life upside down.
Valverde-Soto's and Moore's production is a moving drama about Finn, a little girl rescued from an abandoned boat in the middle of the ocean by a retired pianist-turned-fisherman. Her talent and passion for singing literally glows in her chest—but can't be pursued without leaving her beloved rescuer behind.
Currently, Gregory and Moore are pursuing film careers in Los Angeles. Among other projects, Valverde-Soto is producing a period feature film in Costa Rica.
While this particular ATAS event bestows prizes and promotion opportunities on student producers, the student directors of winning films also will be recognized. For "The Problem With Fiber Optics," writer and director credits both go to Film School alumnus Greg Jardin. Alumna Soo Jim Hwang occupied the director's chair for "Tycho's Nova" after co-writing it with fellow FSU student Cindy Rago.
FSU has claimed a lion's share of the College Television Awards in recent years. Its students took home a record-setting five ATAS honors in 2004 alone, the most ever for one film school in a single year.
Recognized by the Directors Guild of America for its distinguished contributions to American culture, FSU's College of Motion Picture, Television and Recording Arts encompasses one of the largest and best equipped facilities devoted wholly to film education while its undergraduate and graduate programs rank among the most highly regarded in the world.