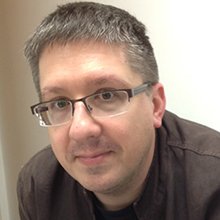 Pribic Family Associate Professor of Slavic
Romanchuk is a Slavist, with interests ranging from the middle ages to the present, the peoples of former Yugoslavia to those of the former USSR, and philology to psychoanalysis. Among other topics, he has lectured on Ukrainian culture in various periods (including the contemporary), and has published on Ukrainian and Russian cross-cultural perceptions and on Ukrainian culture in periods of revolution.
---
Whatever their attitudes toward Russia, practically all Ukrainians know Russian language and culture well, but few Russians know much about Ukraine and Ukrainians beyond a limited set of stereotypes that alternate between love and aversion. For this reason, as the Russian scholar George Fedotov argued, manifestations of Ukraine's insurrectionary tradition have always caught Russian elites by surprise.

What is more, Russian stereotypes about Ukraine are largely organized by and along differences of language use and custom. These stereotypes have a long history, and when mobilized by elites they will often be accepted by Russian speakers not only in Russia but also Ukraine. This helps explain a tendency on the part of some Russian speakers to earnestly believe propaganda that seems to us absurd.