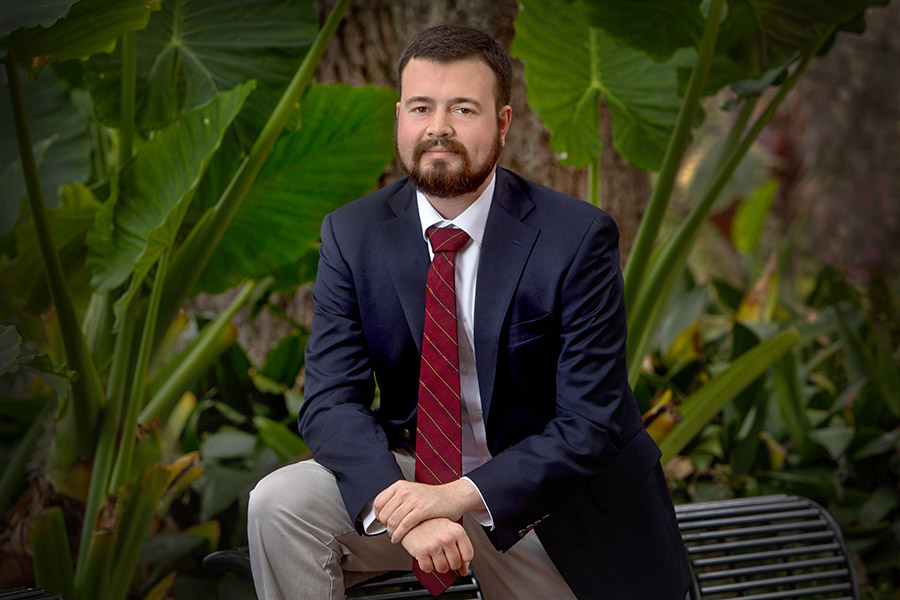 "If I can have a positive impact on one student at Florida State University, whether I teach, work with or sit next to them in class, I will have considered my college experience to have been a success."
Fast Facts
Best FSU Classes: Media Ethics with Jaroszynski and Legal Issues in Physical Education with Rodenberg
FSU Food: Wednesday Night Dinner at the Wesley Foundation
Favorite FSU Memory: Hanging out with friends in Bryan Hall
FSU Sports Moment: Watching FSU Soccer win 2 College Cup trophies
Favorite Study Spot: Top Floor of Strozier Library
The transition to college can be especially hard to navigate alone for many out-of-state students. As an Alabama native, Florida State University College of Communication and Information senior Scott Clemons recognized the importance of joining on-campus organizations to ease the transition and make campus feel like home.
Clemons utilized his passion for sports communication and joined WVFS Tallahassee 89.7FM during his first year at FSU. While the program helped Clemons improve his production skills, he also found a strong community of like-minded peers who helped him find his path at FSU.
Inspired by this sense of camaraderie, Clemons became an Engage 100 group leader to help new FSU students transition to college in the same manner he did. After witnessing first hand the impact his mentorship and leadership had on others, Clemons decided to devote his remaining college career to ensuring that other students felt connected to the FSU community.
---
What advice would you offer to incoming students who are overwhelmed by the experience of transitioning to a university?
Breathe. It's always great to put yourself out there, but it's also important to speak up for yourself and take a step back when you're overwhelmed. Finding balance takes a while, but it is crucial to getting the most out of your college experience. 
Finding a supportive community is essential to your collegiate success. Fortunately, FSU has many different places to look. Whether it's classes, work, Greek Life or other extracurriculars, anyone and everyone can find their place in Tallahassee.  
What inspired you to become involved with the Engage 100 Program and become an Engage 100 leader?
I had a short conversation with the late Dean Karen Laughlin of the Division of Undergraduate Studies at an off-campus event back in 2018. If it wasn't for her, I would not have become an Engage 100 leader. The time and effort she poured into students at this university were immeasurable, and it amazes me to think about the impact she has had on this campus, even after her passing. 
What drew me to the Engage 100 program was the opportunity to have an impact on first-year students. I was lucky to have people who supported me throughout my freshman year during my time in the Bryan Hall Living-Learning Community, and I wanted to give a little of that back to benefit the FSU community. 
How have you maintained such high success, academically and personally while dealing with obstacles presented by the COVID-19 pandemic?
The COVID-19 pandemic undoubtedly had a major impact on my college experience. One of the first things that I told students in my Freshman Interest Group early on was to only worry about things you can control. It can be very easy to get distracted by all the outside noise, but if you can stay focused, the obstacles will not seem nearly as big. 
How has your major helped you find what you're passionate about?
My favorite thing about the College of Communication and Information (CCI) at FSU is how flexible the classes are. Communication is a field with plenty of possibilities and the department does a great job of giving students the agency to create their own path. Whether it's sports, politics or any other field, students can find their home within CCI. 
Can you explain the benefits of having different extracurricular experiences in college?
Being successful in a university setting is about finding balance. When you move into the professional world, what makes you stand out are your experiences and the skills you have taken from them. By getting involved in a variety of social and creative endeavors, you are building a valuable skill set that will separate you from the rest and make you an invaluable member of your community. 
My work with WVFS Tallahassee 89.7FM has benefited me in several positive ways. Not only did it allow me to build connections within the sport management industry, but I also found a community of dedicated students and peers who have supported me throughout my time in Tallahassee. It has undoubtedly been my favorite part of my time at FSU, and I don't know where I would be without this experience.