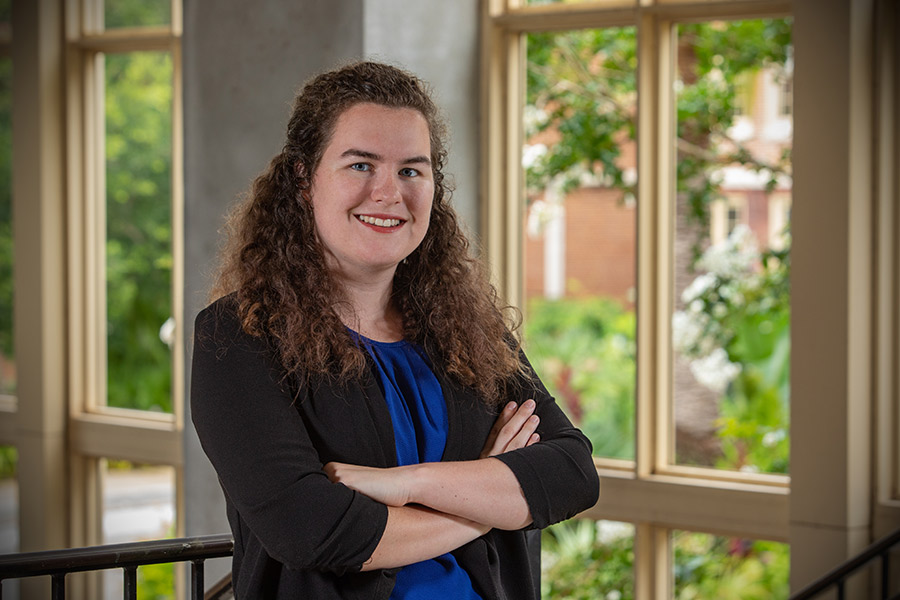 "I knew I wanted to study biology in college and, not only did FSU have a great biology program, but it also provided many avenues for applying the knowledge I gained in the classroom to practical experiences."
As a Florida resident for most of her life, Alexis Cox knew about Florida State University and that it was a great school. Though when she attended a campus tour, she knew FSU was a place she could call her "home away from home."
"One of the main reasons I chose to attend FSU was the opportunities they provide for undergraduates to participate in research," Cox said. "I knew I wanted to study biology in college and, not only did FSU have a great biology program, but it also provided many avenues for applying the knowledge I gained in the classroom to practical experiences."
Now a senior majoring in biological sciences at Florida State, Cox has learned valuable skills both inside and outside of the classroom.
For the past two years, Cox served on the executive board of Connecting Experimental Lab and Life Sciences (CELLS), a group that promotes research for undergraduates and provides a social and professional network for students engaged in biomedical, clinical and social science research.
"CELLS and research taught me the importance of communicating and advocating for myself so that I can make the most of every opportunity," Cox said. "Through participating in research, I have also learned that being able to apply knowledge and learn hands-on is just as valuable as learning in the classroom."
Cox took advantage of the opportunities for undergraduate research offered by FSU and was awarded an IDEA grant for a collaborative project on celiac disease that focuses on gut microbiomes.
The experiment involves collecting gut microbiomes from healthy and celiac subjects and adding their metabolites to the lines of intestinal cells before measuring for inflammation markers to look for a link between the microbiomes and the disease. The project is ongoing and will continue throughout the summer.
"My professors, advisors and fellow classmates were supportive from the start and encouraged me to pursue my undergraduate research," she said.  "They are a big part of why I am currently working on an IDEA grant project with my teammates and why I hope to continue to pursue research in the future."
Another major academic accomplishment for Cox was being chosen as one of 18 students nationwide to participate in the Summer Anatomy Institute hosted by Johns Hopkins in the summer of 2019. During this program, Cox went to Johns Hopkins and worked in a cadaver lab while also taking a graduate anatomy class and shadowing doctors at Johns Hopkins hospital.
Academically, Cox made the President's list five out of six semesters. She's also part of the Honors program and is a member of the Academic Recruitment Organization (ARO), the National Society for Leadership and Success (NSLS), and North Florida Student Fellowship (NFSF).
When the COVID-19 pandemic hit, Cox sprang into action and became a volunteer screener at Care Point Wellness Center where she took patients' temperatures and administered questionnaires before they entered the clinic.
"The work I did protected the nurses, doctors and staff from unnecessary exposure to COVID-19 while also protecting other patients from exposure," Cox said.
Unfortunately, the pandemic was not the first disaster that Cox had responded to. After Hurricane Michael hit the Florida panhandle and her hometown of Panama City, Cox volunteered to help clean up local churches and businesses.
"People say your first semester of college is one of the most challenging, and having watched my home be destroyed in a hurricane, that could certainly be said for me," Cox said. "But instead of letting it bring me down, I worked to help the community rebuild. This experience inspired me to action when the pandemic hit and has further pushed me towards a career where I feel like I can best support my community."
Cox has also volunteered at Tallahassee Memorial Hospital in the Internal Medicine Unit. She currently volunteers at Covenant Care working to take the stress off of caretakers and hospice patients by lending a helping hand.
Cox credits her passion for research to the opportunities she had at Florida State.
"Coming into FSU, I knew there were some research opportunities for undergraduates," Cox said. "I had no idea that I would be given so many opportunities to participate in research. One of the biggest impacts that FSU has had on me is my love for research."
After she graduates in Fall 2021, Cox wants to pursue both a medical and a doctoral degree and work in internal medicine while also pursuing research in bone metabolism.
"This line of research is specifically interesting to me as bone metabolism disorders like osteoporosis, Paget's disease, and rheumatoid arthritis are extremely common and while there are ways to mediate the symptoms there's no cure," she said.