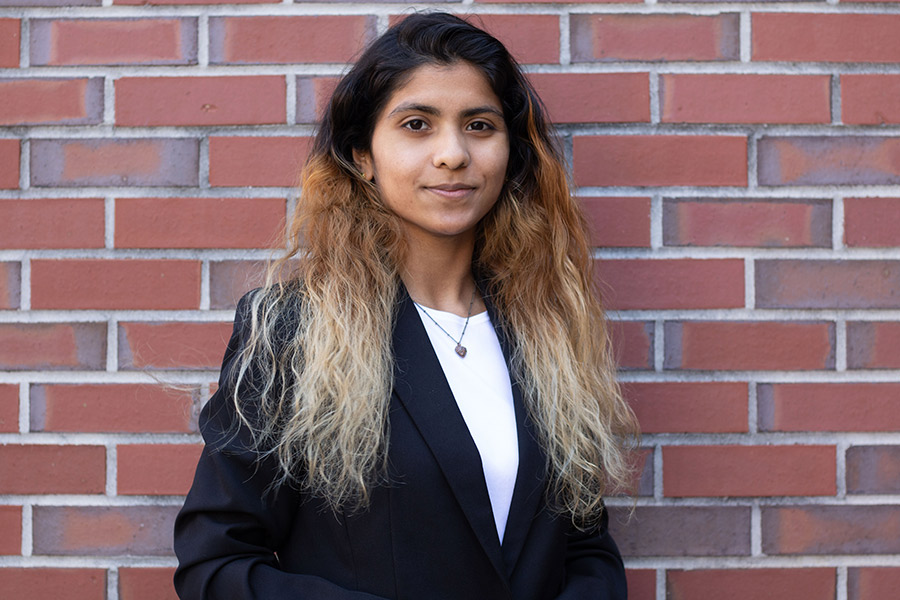 "I recognized that at FSU I would have the chance to pursue rigorous academics while being encouraged to serve the community, explore the unfamiliar and have fun."
When Derica Parathundil chose to attend Florida State University, she wasn't entirely sure what she wanted to study. But she knew that Florida State — a top 20 public university — had the perfect mix of opportunities that would allow her to explore and discover as a student.
"I saw FSU as the college that could make me a well-rounded student and person," Parathundil said. "I recognized that at FSU I would have the chance to pursue rigorous academics while being encouraged to serve the community, explore the unfamiliar and have fun."
Despite not knowing where the college experience would take her, Parathundil knew she was interested in working with children who are D/deaf or Hard-of-Hearing. To align with this goal, she decided to take American Sign Language (ASL) to fulfill her foreign language requirement. She enrolled in Beginning ASL and quickly realized that the majority of her classmates were majoring in Communication Science and Disorders (CSD).
"That degree path was not something I had heard of before," Parathundil said. "This opened me up to the audiology career field, and had it not been for FSU's CSD and Honors in the Major programs, I wouldn't have found a career path perfect for my passion of working with the D/deaf and Hard-of-Hearing."
Parathundil has pushed herself academically while at FSU. She earned Dean's List honors from Fall 2018 to Spring 2020, and made the President's List in Fall 2020 and Spring 2021.
As a freshman, she was part of a multidisciplinary team that participated in the 2019 International Genetically Engineered Machines (iGEM) competition. Their project for the synthetic biology competition was a genetically engineered solution for citrus greening, which is a bacterial disease in citrus plants.
Parathundil and her team presented the project, "FLOEMA," at the international Giant Jamboree in Boston, Massachusetts. It earned them the gold medal.
This summer, she received an IDEA Grant for her Honors in the Major thesis project, which will examine the communication development of children who are D/deaf or Hard-of-Hearing.
"My current research project is one of my most significant accomplishments even though it is still in progress," Parathundil said. "Receiving the IDEA grant not only provides funding for this project but also gives me access to professional workshops and other high-achieving students who are doing undergraduate research in various fields."
Parathundil is interested in quantifying the influence that specific strategies meant to alleviate delays in children who are D/deaf or Hard-of-Hearing have on those children's communication development and determining if there's a relationship between ASL and language development in this population.
"My project sets out to note what, if any, strategies work well with children who are D/deaf or Hard-of-Hearing and how the use of sign language is related to the child's communication development," Parathundil said.
Service has also been a large part of Parathundil's college experience. Since Fall 2019, Parathundil has worked with the FSU chapter of the Special Olympics, an organization that gives people with intellectual disabilities a fair opportunity to develop and demonstrate their skills and talents through sports training and competition. She's participated in many events with the FSU chapter, including FSUnified Day and Spread the Word week, and was recently elected as the chapter's vice president for the 2021-2022 academic year.
Parathundil has volunteered at several Night to Shine events, a prom for teenagers and adults with disabilities and with SafeBeat, an organization that provides electrocardiograms for K-12 students.
"It was a very simple service to provide, but it's so helpful in preventing heart concerns that wouldn't otherwise be picked up in such a young population," she said.
Parathundil is currently involved in the Student Academy of Audiology, where students learn about the current state of audiology in the United States and various aspects of the profession. She is also a member of the ASL Club at FSU.
Following graduation, Parathundil plans to attend audiology school and earn her Au.D. Her top choices are Gallaudet University, which is the only university in the United States that focuses specifically on D/deaf and Hard-of-Hearing students, and the University of Colorado Boulder, which has a research program specifically focused on rehabilitating/habilitating hearing loss in infants and analyzing language development in deaf or hard-of-hearing children.
"All of these experiences at FSU have been valuable to me, and I learned that there are many paths you can take to get to the same place — and all those paths are valid," Parathundil said.