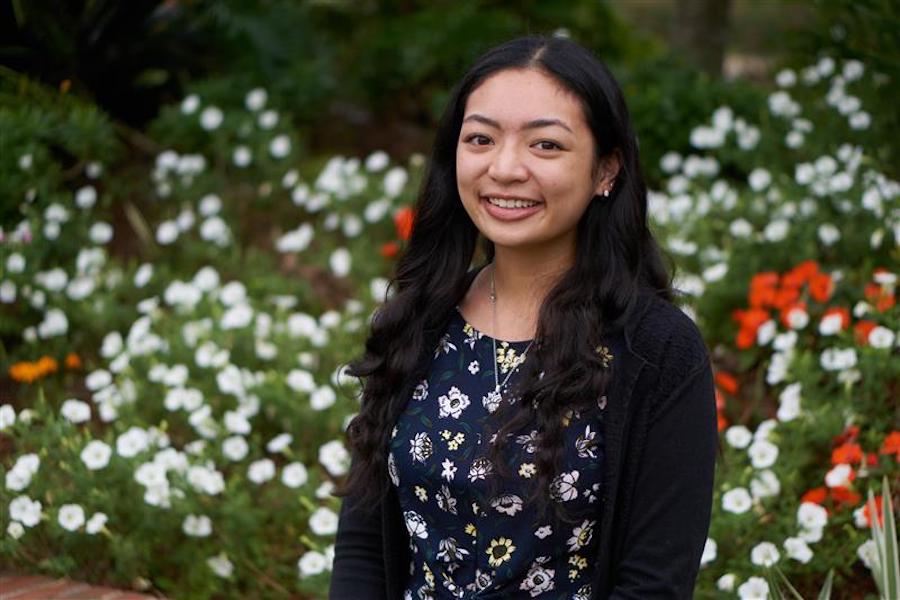 "At FSU, I instantly felt at peace that, through music therapy, I was able to combine my love of music and helping others in a degree not focused on myself but focused on helping those in need. "
When Micah Castillo was deciding which college she'd like to attend, Florida State University caught her eye because of its status as a top school in the state and its renowned music therapy program.
But the native of Leesburg, Florida, said it was a visit to campus that showed her there was more to FSU than she knew and cemented her decision to pursue her education in Tallahassee.  
"I was not very familiar with FSU beyond its status as a top school and the music therapy program, but when I toured the campus the summer before my senior year, I instantly felt like I belonged," she said. "I think a part of why I was scared to even consider coming here was because I originally wanted to stay close to home. I did not know much about the Tallahassee area but all the students and faculty we met that day were so kind and genuine."
The allure of FSU went deeper than she'd anticipated, Castillo said. 
"The campus was more than just a group of uniform brick buildings; I learned so much about the history, student life and ways to get involved, as well as all the opportunities that lied ahead of me at FSU," she said. "Even though it is a big campus, I also just felt safe and saw how convenient the location was."
Castillo's love for music has grown from a passion to a career pursuit and, along the way, allowed her to help others.
"In my senior year of high school, I realized I didn't just want to pursue music for myself; I wanted to pursue it to help others," she said. "At FSU, I instantly felt at peace that, through music therapy, I was able to combine my love of music and helping others in a degree not focused on myself but focused on helping those in need." 
Castillo's desire to help others extends outside the classroom to numerous community service groups, including serving as president of FSU's student music therapy organization, Alpha Mu Alpha (AMA).
"I have been involved with AMA since my freshman year and served as secretary last year," she said. "As president, I have had the opportunity to work with our executive board in providing both online and in-person meetings and outreach events."
Through her church, she has used music to teach preschoolers basic academic concepts, seasons and appropriate behavioral skills. She's led virtual outreach projects and sessions with Voices of Hope for Aphasia (VOH). Aphasia is a language disorder affecting comprehension and verbal production. 
Her remote work has included partnering with geriatric facilities in Florida and New Jersey, including creating YouTube "Quarantine Playlists." She has worked with Tallahassee Memorial Healthcare's Arts in Medicine Services to lead Zoom sing-alongs with Tapestry Senior Living amid the COVID-19 pandemic.
Using music to help people connect during the COVID-19 pandemic is an effort Castillo said she's particularly proud of. 
"One of the geriatric facilities that received our Quarantine Playlists informed us that their residents in the COVID isolation rooms were singing and smiling for the first time in days," she said. "I'm thankful to be a part of the growth of telehealth and continue learning while working with clients. I believe that, to the best of our abilities, we are providing both hope and comfort to those who listen to our playlists. I'm also very grateful for how supportive our music therapy program at FSU, both the faculty and students, have been during this time. We would not be able to facilitate any of these projects without them."
Castillo's work also includes serving as president of the Southeastern Region American Music Therapy Association for Students (SER-AMTAS), where she created and maintained a website and has designed opportunities of involvement for 19 universities in the southeast, including a virtual town hall and the COVID Connections Project.
This summer, Castillo received an IDEA Grant to facilitate a virtual aphasia e-choir. Along with music therapy classmate Tina Lu, Castillo will use the grant to continue working with e-choirs.
"We want to provide this opportunity to individuals with aphasia, as there are currently no aphasia e-choirs in Florida, and explore participant feedback through content analysis of semi-structured interviews," she said. "We hope that this project will allow us to develop a leadership protocol manual for future music therapy students."
Mentoring younger students in the College of Music has also become a passion, Castillo said. 
"A lot of the incoming students are not able to meet each other," she said. "We focused on our mentorship program in which upper-class music therapy students are paired with underclass students and are there for support, meeting online or over coffee if they are comfortable. It's been nice talking to other students to understand what they are going through and to be able to offer advice and comfort." 
Following her graduation in Spring 2022, Castillo is set to begin a six-month music therapy internship before taking board certification exams to become a certified music therapist.
"Afterward, I hope to continue participating in research focusing on neurology music therapy," she said. "On the whole, I want to continue to advocate for music therapy."
That effort will include helping the American Music Therapy Association become a licensed association in the state of Florida, a goal that, if achieved, she said will extend music therapy further toward those who need it. 
"Music therapy is here to enhance our quality of life," she said. "It's important that we continue to advocate for it."