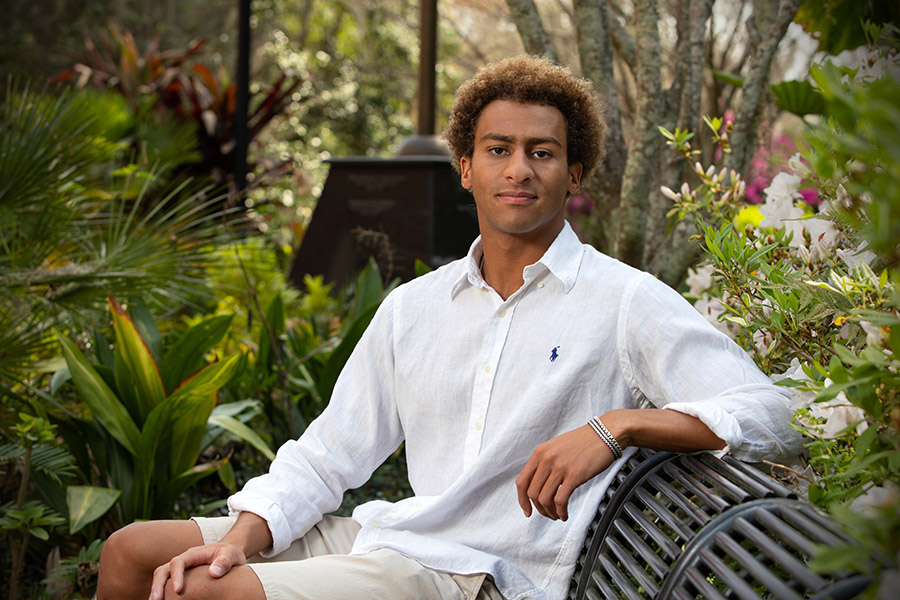 "Academically, FSU has challenged me to be a better student and to strive for academic excellence. The challenging curriculum gives me confidence that I can handle a good graduate program, which is key in accomplishing my career goals."
Junior swimmer Izaak Bastian chose to attend Florida State University for two important reasons — the exceptional academics offered and the top 15 swim team.
Originally from the Bahamas, and more recently Boca Raton, Florida, Bastian was motivated to pursue a degree in athletic training, which would allow him to inspire a younger generation of athletes while simultaneously doing what he was passionate about.
"My motivations have come from the amazing physical therapists who have worked with me in the past," he said. "Their passion to not only make people physically feel better but also to be an open ear inspired me to be like them."
While juggling a busy schedule as a varsity swimmer, Bastian felt confident in his ability to achieve academic success at FSU.
"When I was looking at which program to pursue, Florida State was an easy choice," he said. "I heard that the swim coaches were focused on the athletes and engaged in their lives, which is extremely important to me."
When Bastian first arrived at FSU, balancing schoolwork while competing for a place on the varsity swim team was a challenge, though having his family to inspire him helped him stay above water.
"I believe the biggest lesson I've learned at FSU is time management," he said. "The only way to be successful in both academics and athletics is to find  balance and stay on top of planning your work."
Learning those skills paid off for Bastian.
In March 2021, he was one of nine FSU men's swimmers to compete at the 2021 NCAA Championships. Bastian, a two-time NCAA individual qualifier, also is the school record-holder in the 100 breaststroke (51.84) and 200 breaststroke (1:53.81).
"I have been blessed to get better every year, which has helped me represent the school well at our conference championship and even at the national championship," Bastian said.
Bastian's athletic success has allowed him to travel with the Bahamian National Team to events such as the World Championships, and the Central America and Caribbean games. His training also has given him the opportunity to be in consideration for the Bahamian Olympic team in summer 2021.
"FSU has been a blessing for me both athletically and academically," he said. "FSU has challenged me to be a better student and to strive for academic excellence. The challenging curriculum gives me confidence that I can handle graduate school."
Also academically talented, Bastian is a member of the W.E.B. DuBois Honors Society, a scholastic, leadership and service organization that recognizes the academic achievements of students.
"I was invited to join the W.E.B. DuBois honors society my freshman year," Bastian said. "Through this, I was able to see my close friends while receiving a certificate to commemorate my achievement."
Bastian also has regularly participated in community service during his time at FSU. He attended FSU's Green Dot Training, which teaches individuals how to recognize and prevent sexual assault on and around college campuses.
"Green Dot Training was worth every bit of time I spent doing it," he said. "Knowing that I can be able to be a helping hand to someone who might be in danger is a positive feeling."
Bastian prioritizes the need to give back, not only to FSU but to the Tallahassee community as well by creating Valentine's Day goodie bags for the homeless population.
"I believe that my community service has brought good to the community," he said. "I want to leave Tallahassee knowing that I did all I could to leave a positive impact for anyone that I could help."
Once he graduates in spring 2022, Bastian plans to pursue his graduate degree in a physical therapy program and hopes to travel with the Bahamian National Athletics teams.
"I hope that my college journey can inspire other student-athletes to believe in themselves and pursue their dreams," he said.