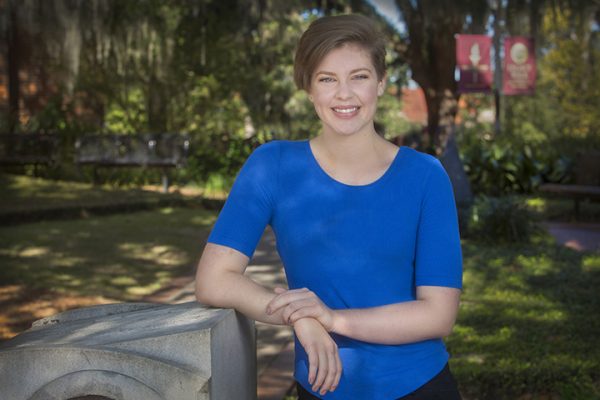 "FSU makes it so easy for students to get involved in any type of research."
Florida State University sophomore Sarah Warren is already making a name for herself on campus with her unique research.
Initially, Warren didn't know much about Florida State, except that it was a top-ranked university that was home to a renowned research program and a winning football team. Once she did a tour of campus, Warren knew she wanted to be a Seminole.
"During my first visit, I saw firsthand the amazing research opportunities FSU had to offer," Warren said. "The resources and opportunities available to students are unparalleled. I knew the moment I drove away from campus that FSU was a place where I could grow in my field and personal life in ways no other university offered."
The native of Orlando, Florida, is double majoring in political science and English literature. She took no time getting involved on campus by taking advantage of every opportunity, digging into the depths of her studies and becoming captivated with research.
"Research has given me a perspective that I wouldn't have otherwise had," Warren said. "It makes me think both critically and creatively. I've always been fascinated with how things work and are connected, and researching two subjects has really let me do that."
English and political science may seem like two very different fields, but Warren has found interesting correlations between them during her research.
"There's so much overlap between key political theorists and major figures in literary critical theory," Warren said. "The fundamental difference is how those theories are applied in different fields."
The honor student began her research career during her freshman year after joining the Undergraduate Research Opportunity Program (UROP), where she worked with political science professor Marcus Meachum on his project, "Assessing Bias in the International Court of Justice."
That same year, she completed her thesis on selective incorporation and federalism, "Over-Due Process: Federalism, Selective Incorporation and the Warren Court." She presented it at the Florida Undergraduate Research Conference and the 17th Annual Undergraduate Research Symposium at FSU.
Currently, Warren is working on a project with criminology professor Daniel Maier-Katkin and history professor Nathan Stoltzfus analyzing the autobiographies and testimonials of female members of the National Socialist German Workers' Party.
"Sarah is one of those inspired and inspiring students who appreciates the beauty of getting an education for its own sake," Stoltzfus said. "Her focus on learning keeps the job market in mind, but she also avails herself of the great resources at Florida State to learn broadly and deeply."
Warren's innovative research ideas and creativity have made her a skilled leader in her field at a young age. She believes that it's important for all students, regardless of their major, to get involved in research.
"When most people think of research, I think they think of labs and test tubes," Warren said. "It can be daunting for a student to get involved in research — it seems like such a prestigious, unattainable thing. FSU makes it so easy for students to get involved in any type of research. While a lot of excellent research is done in labs, not all valuable research is done there."
Since freshman year of high school, Warren has valued giving back to the community. She volunteers as a teaching assistant at the Russell Home for atypical children in Orlando, Florida, and at the Liberty Counsel, an international nonprofit legal organization.
Warren believes that availing herself to as many opportunities as possible is the best way to positively impact the FSU community. Since arriving at FSU, she has put this mentality into play by getting involved with a number of organizations on campus. She is the marketing coordinator of the FSU Swing Dance Club and a foreign policy contributor for the Millennial Review. She is a member of the FSU Honors Program, where she helped create the Honors Lending Library, which facilitates a community atmosphere within the FSU Honors Program and hosts events for students. Warren also is a Garnet & Gold Key recipient and has made the President's list.
"FSU has so many amazing resources for students of all interests and majors, but not all students know about the opportunities available to them," Warren said. "The opportunity to network through organizations and talk to students one-on-one about getting involved is the most fun job I've ever had. It's such a pleasure to serve students in this way."
Over the next two years, Warren plans to keep expanding her impact on campus and continue her research. After graduation, Warren hopes to pursue a law degree at the FSU College of Law, specializing in criminal and contract law.
"Wherever I go and whatever I do, I am going to work heartily and employ my craft well," Warren said. "I hope to define any career I have with the character traits I have gained while at FSU, like a willingness to work hard, asking a lot of questions and creatively exploring how to answer them. I am so blessed to be a part of this amazing institution."
---
By Susan Hansen, University Communications
Produced by the offices of Information Technology Services, the Provost, Student Affairs, Undergraduate Studies and University Communications.