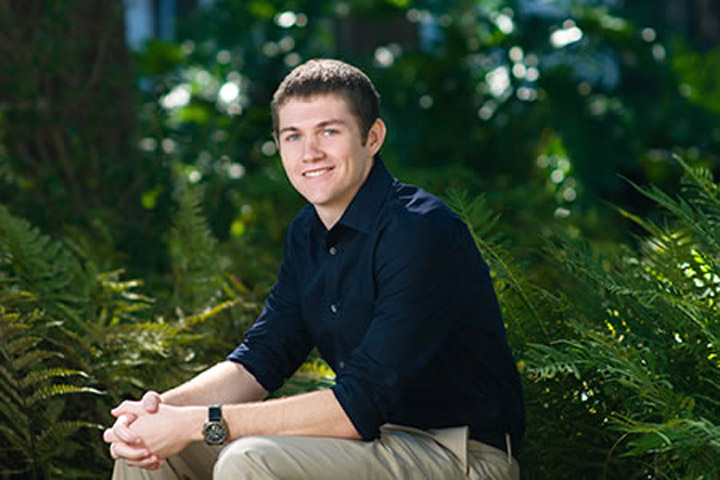 "I feel I have impacted the FSU community positively through my leadership and commitment to volunteering."
As an undergraduate student at Florida State University, Arthur Beredjick has strived to make an impact academically and with his volunteer efforts. He has made the dean's list numerous times and completed nearly 1,000 service hours — but he didn't stop there.
Beredjick is currently in his final semester hoping to follow his bachelor's of accounting and finance degrees and French minor with continued education here in graduate school. He spent the previous fall semester as a Freshman Interest Group (FIG) leader, guiding freshmen who were interested in enrolling in the College of Business. His time here as an undergraduate has been spent exploring the many opportunities offered by the institution.
Beredjick is a recipient of the University Freshman Scholarship in addition to being a two-time recipient of the College of Business Endowed Scholarship. He also received two more scholarships and joined Pi Delta Phi — the French honor society. In addition, he joined the Garnet and Gold Key Leadership Honorary, which recognizes leaders who excel academically and in service organizations.
"Arthur is the true definition of a compassionate scholar," said Ellen Crabtree, academic program specialist with the Division of Undergraduate Studies.
Crabtree worked alongside Beredjick in his FIG as well as in the Garnet and Gold Key Leadership Honorary. She not only described him as compassionate but also praised the conscientious effort he puts into every academic endeavor.
"While Arthur's academic record at FSU has been exemplary, there is much more to him than the academic 'numbers,'" said Crabtree.
Not only was Beredjick involved academically, but he also discovered an interest in community service. His near 1,000 hours have made a difference around campus.
"I feel I have impacted the FSU community positively through my leadership and commitment to volunteering," Beredjick said.
Beredjick was a counselor at Camp Boggy Creek in Eustis, Fla., for one week during the summer of 2013. He worked with young boys who all experience serious heart conditions. He was able to see how important a summer away at camp was for the boys.
"I didn't realize the importance of this camp to all of them until the first time everyone was in the pool. I noticed long scars across many of their chests — they were from heart surgeries," Beredjick said.
Beredjick shared many fun, goofy memories with the boys and what seemed to be an array of never-ending activities for them to enjoy together. He described his experience at Camp Boggy Creek as being incredible.
Beredjick has also been a participant of Relay for Life since 2011 – the campus activity in which he has been most heavily involved. He became a member of the executive committee for Relay for Life and just a couple months later progressed to serving as vice president of revenue.
"That was an enormous year for me. I went from an introverted, quiet kid to becoming a confident leader," Beredjick said.
The interest Beredjick had in Relay for Life was also personal. His father previously had a scare over the possibility of skin cancer. This inspired him to take action. As president of Relay for Life for the previous two years, he has worked to implement programs to educate students about cancer prevention, including the distribution of free sunscreen at the FSU Reservation and prior to various sporting events and also through handing out promotional materials during Market Wednesday in the Oglesby Union on campus.
"We have received positive reactions from people with these programs and hopefully, with enough donations, can continue to offer them," Beredjick said.
Beredjick's volunteer work has inspired him to take a different path with his majors. He has decided to use his knowledge of accounting and finance to look into nonprofit work and management.
Beredjick plans to obtain an MBA while simultaneously studying to become a certified public accountant. He would like to move into the nonprofit field by starting his own organization with his sister who currently works for a nonprofit organization in New York.
---
By Katherine Sinner, University Communications Intern
Produced by the offices of Information Technology Services, the Provost, Student Affairs, Undergraduate Studies and University Communications.