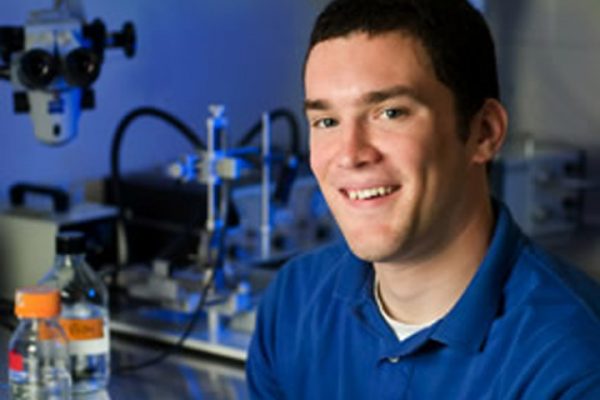 "Since arriving at FSU, I've developed a love for the inner workings of the human brain."
Kyle Mauk, a psychology major focusing on neuroscience, received a 2009 Mentored Undergraduate Research and Creative Endeavor Award from the Office of Undergraduate Research and Creative Endeavors. He used this award to support his study of the neurobiology of aggressive behavior in male prairie voles. His research examined "vasopressin's role in the medial prefrontal cortex area of the rodent brain in expressing aggressive behavior."
Kyle also was awarded a fellowship to attend Michigan State University's Summer School for Behavioral Neuroendocrinology, sponsored by the National Science Foundation. In September, he presented the results of his summer research at the Undergraduate Research and Creative Activity Awards Symposium.
In 2008 and 2009, he traveled with a graduate student as coauthor of poster presentations at the Society for Neuroscience annual meetings in in San Diego, Calif., and Washington, D.C. "I got such a sense of an accomplishment and pride for being a Seminole. People were genuinely impressed with the direction the university was taking and the research we were producing."
Zuoxin Wang, professor in the Department of Psychology, has been an inspiring mentor to Kyle. "Dr. Wang has given me so many opportunities in the lab, and I am so grateful for him having such faith in me," Kyle said. "Without his influence, I would not be where I am today."
Working with graduate students in the lab has given Kyle confidence as well as additional mentoring support. Kyle Gobrogge, a Ph.D. student, also has helped Kyle achieve his goals: "He has been a great mentor and friend and has given unselfishly of himself to help me become a better scientist."
Kyle founded the College Student Interest Group in Neuroscience and Neurology (COSIGN), a student organization for undergraduates interested in neuroscience and neurology. He also has been involved with the annual North Florida Brain Bee and Brain Awareness Week, a series of events held around the world.
He is a member of the Student Council for Undergraduate Research at Florida State. "We are…producing the university's first completely undergraduate research journal," Kyle said. "I have been so fortunate and blessed to be able to conduct my own independent research, and it brings me great joy to help others get involved and start researching on their own."
From an early age, Kyle has wanted to become a doctor and help others. As a student at Florida State, he has gained valuable knowledge about the brain. "Since arriving at FSU, I've developed a love for the inner workings of the human brain," he shares. "The brain is such an important organ in the body, which for the most part still remains a mystery."
After graduating Kyle plans to attend medical school and hopes to become a neurosurgeon.