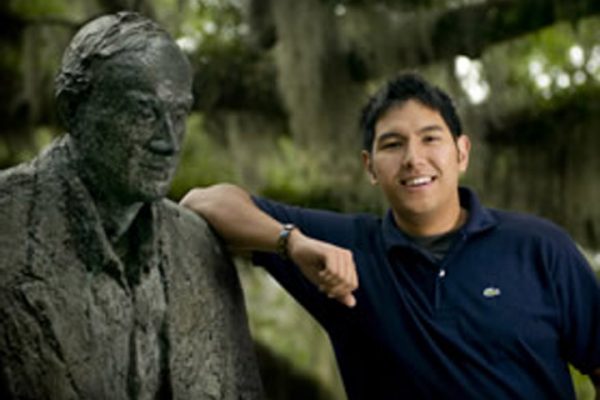 "The faculty, staff, and students here have always been helpful and kind to me, aiding me in my career as a Seminole."
As an Honors student and an undergraduate researcher, Vinnie LaBarbera has maintained a 4.0 GPA. He credits the support from Florida State with helping him succeed: "The faculty, staff and students here have always been helpful and kind to me, aiding me in my career as a Seminole."
The approachable professors at Florida State encourage him in the classroom and the lab. "One of my favorite professors is Dr. Gregory Dudley in the Chemistry Department. He has a very easy-going personality and gladly contributed to any conversation. He always had an interest in what his students were up to and always had a smile or a joke."
In challenging courses like Organic Chemistry I and II Honors, Vinnie found that Dr. Dudley "taught in a way that was relevant and enjoyable to his undergraduate students. He not only got his students to read the organic chemistry textbook (not an easy feat), but made it so his students were excited and eager to get to class early and meet outside of class for extra study."
Vinnie's ambition is to attend medical school and then practice medicine in Florida. He hopes to participate in biomedical research in an M.D.-Ph.D. graduate program. As a Biology major at The Florida State University, he had the privilege to begin doing research as an undergraduate.
He received a Mentored Research and Creative Endeavors Award from the Office of Undergraduate Research and Creative Endeavors, which supported his research in muscle biophysics with Dr. P. Bryant Chase in the Department of Biological Science last summer. He presented his research at the Florida State University Undergraduate Research and Creativity Award Symposium in September; he will also present at a Bio-Mechanics Conference in December.
His interest in biomedical research also inspires him to help other future scientists and researchers. "I mentor two high school students in the Young Scholars Program," a residential summer science and mathematics program for Florida high-school students. The students participate in classroom and laboratory activities designed to offer college-level experience and advanced educational opportunities. "They work in the laboratory with me and I guide their research over the summer."
Vinnie is also a member of Phi Eta Sigma Honor Society, Alpha Epsilon Delta Pre-Medical Society, and the Student Council for Undergraduate Research and Creativity. One of his most meaningful experiences at Florida State was the 2009 American Cancer Society Relay for Life at Florida State University.
At Relay for Life, teams of people camp out and take turns walking or running around a track or path. The event offers the university community a chance to participate in the fight against cancer. Due to heavy rains, the Relay was forced to relocate from the Mike Long Track to a parking garage.
Despite the adverse weather, Vinnie remembers how students were able to continue the overnight fundraising event. "I have always been an enthusiastic American Cancer Society Relay for Life supporter, and being able to fight cancer with many like-minded Seminoles was very rewarding. The camaraderie among all those celebrating the lives and memories of their loved ones was extremely moving; no one minded where we were, as long as we were all striving toward the same cause."
Sharing that experience with so many friends made it unforgettable for him. The successful event generated over $130,000 for the American Cancer Society.
Vinnie describes Florida State has having a "friendly and scholarly atmosphere." Through his research and service to other students, he has helped to preserve this valuable atmosphere.