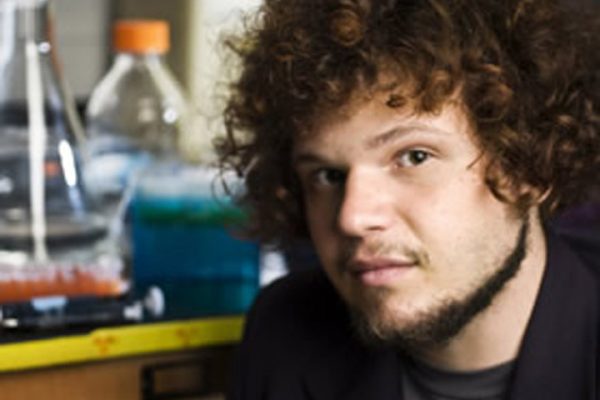 "A lot of hard work and good mentors, with an element of luck, have allowed me to demonstrate that undergraduates are capable of research."
Elliot Kahen's curiosity about how things work on the molecular level drove him to the laboratory as an undergraduate in biochemistry at The Florida State University.
His interests may be natural as the only son of a father who is a physician and a mother who is a sixth-grade science teacher.
"I was surrounded by science," he said.
But his research over the past two years has garnered several awards, including an Undergraduate Research Award in Chemistry/Biochemistry, a Bess H. Ward Honors Thesis Award and an American Cancer Society grant.
He has been listed as a contributing author in articles in two judged journals.
"I feel incredibly blessed and lucky," he said. "I thought I might get one paper published and have just a small part in it. But two papers, and a real role in the research, makes me feel accomplished."
Kahen, a member of Phi Beta Kappa, graduated in August with a degree from the Department of Chemistry and Biochemistry in the College of Arts and Sciences. He will seek his doctorate at Cornell University in a biochemistry, molecular and cell biology umbrella program.
"I plan on representing FSU in the best way I can, through continued perseverance in my field," Kahen said.
Kahen's research at Florida State involved RNA, a close cousin to genetic material DNA. But less is known about RNA and that made it a more of a mystery when Kahen started research with Hong Li, a professor of biochemistry and a faculty member in the Kasha Laboratory Institute of Molecular Biology.
Kahen's research focused on the enzyme telomerase, considered key to gaining a deeper understanding behind some of the molecular-level interactions that affect cancer cells. He also worked on the enzyme's mutations implicated in a rare genetic disorder that can lead to bone marrow failure and death at around age 10.
Li said that Kahen's detailed work has added toward scientific understanding of a complex molecule and its role in the regulation of genes.
"Dr. Li led me to not be so frustrated whenever things were going wrong, and science is a lot about things not working out," Kahen said. "She was encouraging and she allowed innovation in my own research."
He was invited to discuss his research in a poster presentation at the RNA Society Annual Meeting in Madison, Wis., in June, where he networked with internationally known scientists.
"It was neat to meet people, real people with real problems and difficulties and real successes as well," Kahen said. "I could put a face behind the names on papers I had been reading in my research."
Kahen also gained a German pen pal who is working on her doctorate in biochemistry at the Max Planck Institute.
He pointed out that his interests on the Florida State campus weren't limited to the sciences. He watched foreign films at the Askew Student Life Center, attended shows at the Railroad Square Art Park and enjoyed the local music scene, particularly on campus at Club Downunder.
"I appreciate how Florida State is able to support the arts and the sciences," he said.