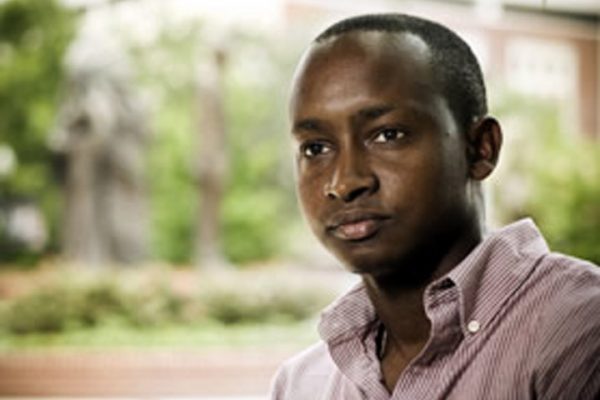 "FSU helped develop me into the kind of man I have become."
International student James Arinaitwe didn't own shoes until he was 11. He ran barefoot seven miles to school; he could slow down to a walk on the way home.
His mother died of cancer; his father died of AIDS; and his four biological siblings were killed by malaria or measles.
But when Arinaitwe talks about his route from rural Uganda to The Florida State University, his words stay optimistic even as his eyes fill with unshed tears. "My grandmother always assured me to have faith in God and believe He can make a way even in a desert where there seems to be none," he said.
Arinaitwe graduated from Florida State in May with a major in mathematical and computational biology from the Department of Biological Science. He is working on his graduate degree in public health.
"James is one of the most inspiring students I've ever met. His work ethic is unmatched. His heart and kind spirit are as big as Tallahassee. I truly believe he is one of a handful of students with whom I've worked who will change the world," said Mark Zeigler, associate in the College of Communication & Information who earned the 2008-2009 Distinguished Teacher Award, the university's top teaching honor.
Arinaitwe's mother taught him the value of education by pointing to animals in a book and telling him the English words for them. After she died, his grandmother and his older brother made sure he went to school. There was no money for high school, which cost about $130 a year.
With his grandmother's encouragement and what Arinaitwe calls a series of miracles, he made a 10-hour trip past armed soldiers to tell his story to the first lady of his country. Her assistant arranged for him to go to high school.
He won a scholarship through the Ugandan government to attend college in Pennsylvania, but it never materialized after the events of 9/11. Left with few options for further education, he joined Solar Light for Africa, a nonprofit organization that builds solar lighting systems for rural clinics, schools and orphanages. Teams from Africa join with international teams to do the work.
When Dr. Russell Rainey, a Tallahassee dentist, and his wife, Dr. Cheryl Rainey, volunteered for a team sent to Uganda, they met Arinaitwe. They were so impressed they sponsored him to come to the United States and attend Tallahassee Community College. When he graduated from TCC, he was offered a scholarship to Florida State.
Arinaitwe's goal is to become a physician and return to Uganda.
"I want to go back to Africa because the kids back home go through the same thing I did," he says. "My vision is to help develop clean water sources and to build clinics. I wouldn't have this dream without FSU. FSU developed me into the kind of man I have become now."
At Florida State, Arinaitwe has been president of the African Student Association and used his position to spread awareness about the conditions in Africa and to dispel stereotypes about the African people. He started a Florida State chapter of "One Here, One There," a college-student initiative to raise funds to send African children to primary school.
In addition, he has volunteered with Florida State's Alternative Break Corps, traveling to Washington, D.C, to help educate groups most likely to be affected by HIV and AIDS and to Kansas City, Mo., to serve economically disadvantaged children.
"Before, I had no idea that there were children living in America with no electricity or clean water," Arinaitwe said. "My eyes were opened. I learned problems exist anywhere in the world, and it is up to our generation of leaders to take action in solving them."