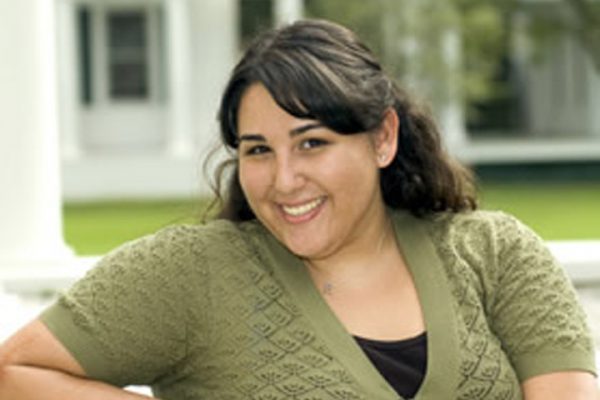 "The pain in my shoulders and hands is justified when I finish a [HeArts] project that will make someone's day less painful."
"I'm in two or three organizations, but my heart lies with HeArts for Covenant Hospice," says Eileen Suero, a senior who is carrying a double major in Political Science and Sociology. "HeArts makes knitted and/or crocheted goods, like blankets, booties, hats, shawls, and wheelchair baskets, for patients in Covenant Hospice's care. The pain in my shoulders and hands is justified when I finish a project that will make someone's day less painful.
"Through CHICS (Caring and Helping in Community Service), a community service organization, I got involved with Relay For Life, Dance Marathon, and HeArts for Covenant Hospice. Due to my commitment, and my ability to raise money from the annual cookie jar sales, I was named Super-CHIC in spring 2006.
"Since I arrived at FSU I've been working part-time in the General Counsel's Office at the Department of Education. I help the attorneys who prosecute unethical and immoral teachers. It has been the best experience because it has shown me that not all attorneys do the same thing; you can take a different avenue.
"I've always been interested in politics and thought it would help me with Law. I found Sociology when I got here, and I liked it so much that I decided to major in it."
"I'm also a peer educator with the Victim's Advocate Program. We talk to the incoming freshmen in the FYE [First Year Experience] classes about how to keep safe on campus, off campus, and at social events. Students have the most questions and concerns about consent and when consent is given. I inform them of their rights and explain legal aspects. They are made aware that sexual assault isn't just a one-person problem; it affects every person.
"Through the College of Law's six-week Summer for Undergraduates Program, I met the Florida Supreme Court Justices, had a mock oral argument, and got a taste of what first-year law students experience, including Legal Writing and Constitutional Law classes. The most important workshop was the one on non-traditional jobs for lawyers—there is so much more to being a lawyer than sitting in a law office. The experience was incredible. This is not to say that it was easy; it wasn't, but I would do it all over again.
"After graduation in the spring, I plan on attending Law school. I've always wanted to go into Family Law and deal with divorce, and I got into Immigration Law at the Summer Program when my group's presentation, 'Ninety Miles to Freedom,' won."