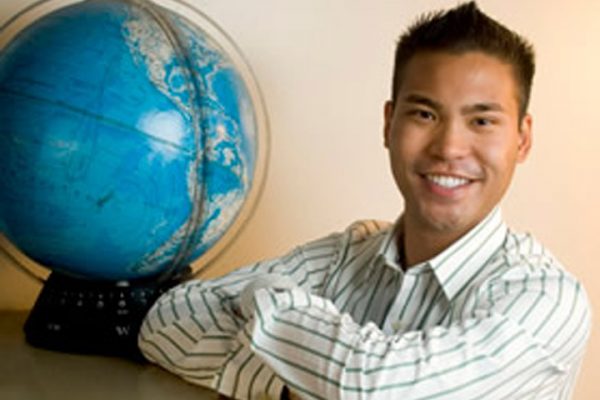 "Being a part of something makes your dreams easier to attain."
Why major in Geography? Malcolm Echaluce responds, "Why not? In this increasingly interconnected world, Geography is extremely important, and is so much more than the cities, mountains, and continents lecture; it encompasses a vast array of subjects, from medicine to sports."
Deciding on the major, however, was difficult for Malcolm, who comes from a "long line of doctors." At birth, his life path seemed set in stone, until he realized that to become successful in an area, you have to love it. Geography has always held "a huge interest" for him, and he plans to continue his pursuit of knowledge in a similar area—Urban and Regional Planning. "I hope to use my experiences with civic engagement to develop communities across the globe that are focused on societal needs."
It is natural for Malcolm to be interested in communities across the globe—he was born in the Philippines, immigrating to the U.S. when he was eight years old. In fact, Malcolm is a brand new citizen, having been sworn in a few months ago. But, he says, "Growing up in America, I had few Filipino influences, so I was only able to retain a small portion of my culture." Hoping to meet other Filipinos, Malcolm joined the Asian Student Union, which enabled him to learn about and appreciate his heritage.
As an incoming student, Malcolm was introduced to the work being done through the Center for Civic Education and Service. Since then, community service has become a big part of his life. He has participated in several programs but primarily as mentor coordinator for "the very popular" Youth Programs (America Reads). He says, "What's great about the Center is it shows us society's problems first hand and allows us to partake in fixing them."
From that connection, Malcolm was introduced to the LEAD Center. Its weekend retreats (LEAD-Ins at the Rez), week-long seminars (LeaderShape), and book club have helped him develop leadership skills. As a new member of the Student Alumni Leadership Council, Malcolm plans to pass the word to his fellow students and increase their awareness about the University.
"Through my fraternity, Phi Gamma Delta," Malcolm says, "I found that I am a particular kind of leader—one who leads by example." One of his "best decisions" was getting involved in Greek Life. "Being a part of something," he advises, "makes your dreams easier to attain."