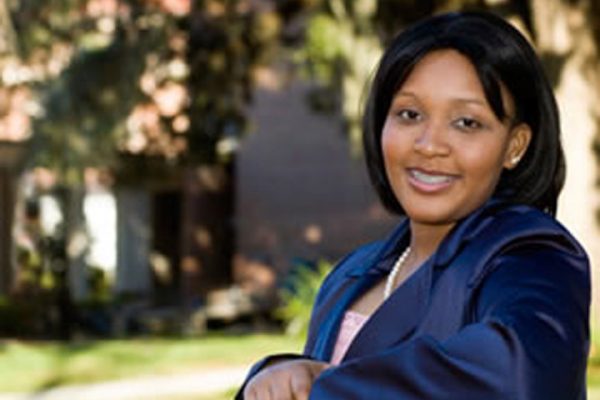 "My experiences have taught me that a dentist is a teacher first, a medical professional second, and a business person third."
Alleen Weathers' professional career began in high school.
After declaring her major—Biological Science—as a senior, she received an invitation to join Florida State's Women in Mathematics, Science, and Engineering (WIMSE) Program. WIMSE, which works to advance women in these male-dominated fields, mentors young women, offering free tutelage, first-year-experience programs, and paid research-internship opportunities. "This program has been great," she says, "I was able to suit up and enter the Antarctica core research room, stand on top of one of the world's largest magnets, and meet many of my future female professors. I was also introduced to the service aspect of campus life." Her first year, Alleen served on the Student Advisory Executive Board and as the newsletter editor. She now mentors incoming WIMSE members.
Alleen had planned to become a researcher, working toward cures for terminal illnesses. Through an internship and a DIS, she "learned organizational techniques, fine-tuned her multi-tasking skills, and increased her patience at performing tedious tasks." While managing a difficult science course load, appearing on the Dean's List each semester, and volunteering in medical and honors societies, she discovered Dentistry, "a field that demands strong critical thinking skills and tenacity."
In the summer of 2005, through FSU's pre-health organizations (Caribbean-American Medical Educational and International Medical), she began the first of several missions to Jamaica. Each day, she assisted the doctors and nurses with nearly 200 patients who lived in coastal regions devastated by hurricanes. At night, "We shared our observations, what we learned about ourselves and the Jamaicans, to better aid them. After a week, we were welcomed into their community as family members."
Last summer, Alleen became an outreach program team leader for the Center for Civic Education and Service, a position that has enabled her to put the knowledge she's gained from all of her volunteer experiences—initiative, dedication, perseverance, and integrity—into a leadership role. "I have developed more effective methods to direct, guide, encourage, and manage other people that will aid in my professional career."
That professional career will begin as a science teacher for the underprivileged through the Teach for America Program. "I believe in the worth of each child. It is my duty to nurture the minds of the succeeding generation. These experiences will prepare me to communicate effectively with people of all ages, backgrounds, and educational levels, a necessity for the dental field. At first glance, Dentistry may seem like an odd mix with teaching; however, my experiences have taught me that a dentist is a teacher first, a medical professional second, and a business person third."