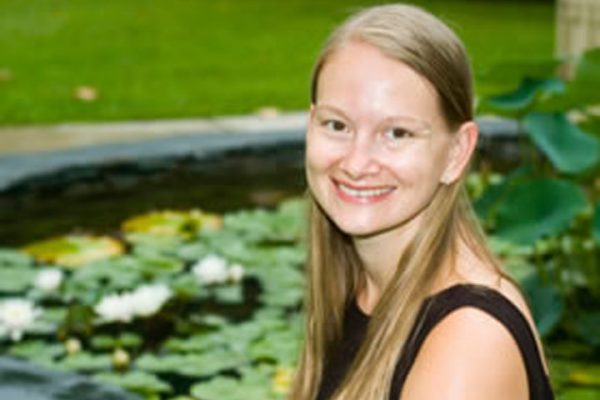 "College students are at particularly high risk for problems associated with substances such as alcohol and marijuana," says Julia Buckner, a doctoral student in Clinical Psychology who is "working to uncover the mechanisms underlying the high rates of substance-related problems to help inform treatment and prevention efforts."
Julia is currently lead investigator on several research projects investigating problematic substance use among anxious individuals, a group at particular risk. She is developing and pilot-testing two new treatments: a method to treat co-occurring substance and anxiety problems, and a method to increase motivation for treatment. She is also investigating circumstances that make individuals vulnerable to problematic substance use. She collaborates with clinical and social psychology labs at FSU, as well as with other anxiety and addictions researchers throughout the country.
For her work in these areas, she has presented talks and posters at several national conferences—Anxiety Disorders Association of America and Association for Behavioral and Cognitive Therapies—and has submitted numerous manuscripts for publication in peer-reviewed journals, including Behaviour Research and Therapy, Behavior Therapy, Journal of Anxiety Disorders, Journal of Cognitive Psychotherapy, and the Journal of Psychiatric Research. And she is the lead editor for Mental Health Care for People of Diverse Backgrounds, a soon-to-be-published book co-written by therapists of FSU's Psychology department.
To help fund her research, the National Institute on Drug Abuse has honored her with its Kirschstein National Research Service Award.
Since 2004, Julia has served as assistant director of FSU's Anxiety and Behavioral Health Clinic, which offers low-cost treatment to any community member who may be suffering from anxiety. Working closely with her mentor, Dr. Brad Schmidt, Julia trains and coordinates the activities of the graduate student therapists, recruits clients, and works with health care providers to educate the Tallahassee community about anxiety disorders and the specialized treatment available.
Considering the various leadership roles in which Julia has served—including coordinating her Lab's Directed Individual Study (DIS) program, mentoring over 20 undergraduate DIS courses, and sitting on the Graduate Student Advisory Committee and the Student Advisory Committee to the Director of Clinical Training—it's no wonder that she was honored with FSU's Graduate Student Leadership Award for 2006.