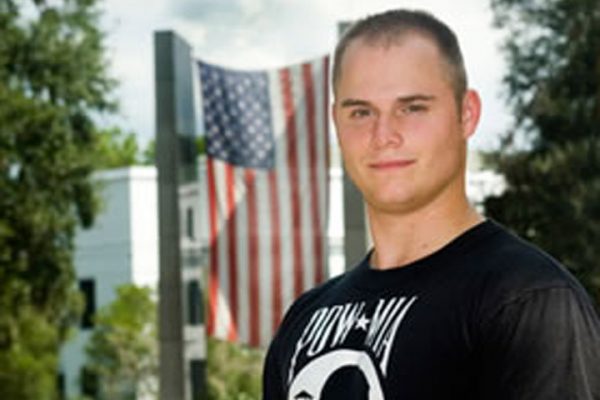 "I love to exercise," says Joshua Ellis. "When I go to the gym, it's hard to come back out. If it's closed, I take a run around campus."
Majoring in Exercise Sciences is a natural fit, then, for Joshua who says, "Health has always been an interest, but it wasn't until I joined the Army Reserve that I put it into practice." He has completed a 10-mile race and two triathlons, but he advises newcomers never to "jump into that type of physical exertion without starting slowly and working your way up. You don't have to run a 5K to get healthy."
This semester, as a Freshman Interest Group Leader, Joshua is taking his passion one step further by leading a colloquium in Exercise Sciences for incoming freshmen.
He plans on a future as a physician. "I have always wanted to work in the medical field, a career that allows me to treat patients on a more personal level." As a member of the Army Reserve, he travels once a month to Gainesville's Veteran's Affairs Hospital. He finds working as a Health Care Specialist for veterans, "who are owed so much," very rewarding. Having witnessed the positive effect on patients when health care providers take the time to reassure them and answer their questions, he knows, "Patients who feel more comfortable about their treatment generally recover faster."
Because he has shown a commitment to personal wellness, Joshua has been honored with the College of Human Sciences Life Puzzle Scholarship. And last year, after being inducted into the Golden Key International Honour Society, he won that organization's Outstanding Junior Scholarship.
But it is his work with the Golden Key that Joshua feels great pride, having "worked very hard with the executive board to make our chapter great." When he became president, which "has its perks," he was prepared to make this a banner year for the organization. Already they have inducted over 400 new members. He says, "It is one of the most valuable leadership experiences. I'm able to help the community with service projects, help others get scholarships (doubling the number), and hold many events to help our members and the student body prepare for graduate school and life after college."
Joshua chose to attend FSU because he knew he would have fun while receiving a great education. Sounds like he's also giving a great education.