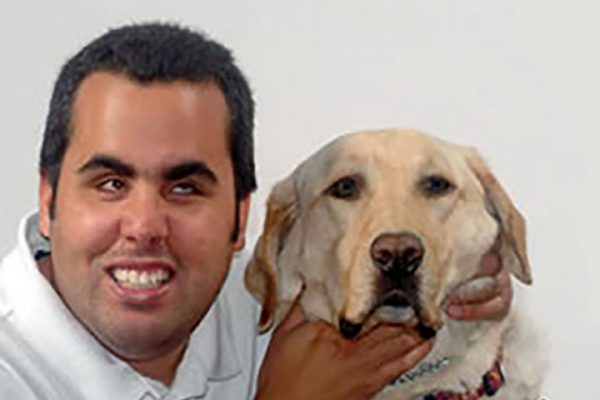 ""I try to live life just like any one else," says Carlos Montas. "I don't let my blindness stop me from doing anything that I want to do.""
"I try to live life just like any one else," says Carlos Montas. "I don't let my blindness stop me from doing anything that I want to do."
It's obvious Carlos accomplishes what he wants, but he is not just like anyone else. Carlos was born and raised in Nicaragua, where Spanish is the native language. He chose to study at Florida State—where English is spoken and written—"because of the wonderful Social Work program here." He also wanted to prove to his parents that he could make it on his own. Indeed, he has done that.
He carries a double academic load—Political Science and Social Work. His interest in these fields got him involved in the Student Government Association, where he has served as deputy secretary of disabled affairs. In that position, he helped create Access, the organization that educates FSU students on issues that affect their fellow students with disabilities.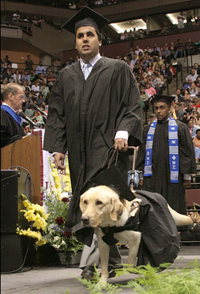 He took that experience and put it to use for a wider population. Governor Jeb Bush appointed him to the Americans with Disabilities Working Group (ADAWG), where he is the only blind member of the Board. He has been working on improving website accessibility for disabled Floridians. Also, Florida's Commissioner of Education John Winn has appointed him to serve on the Committee on Exceptional Student Education, which works on policies for students with disabilities in K-12. Recently, Carlos became president of the Tallahassee chapter of the National Federation of the Blind, an organization that, as Carlos says, "seeks to change what it means to be blind."
In his spare time, Carlos advocates for abused and neglected children by serving as their Guardian Ad Litem in the judicial system. And he helps newly arriving Florida State students, who have the disability of blindness, get acclimated to campus life.
Carlos feels his "best experience by far" took place last summer on his Study Abroad trip to Spain, where, as he wants, he "was treated like anyone else."