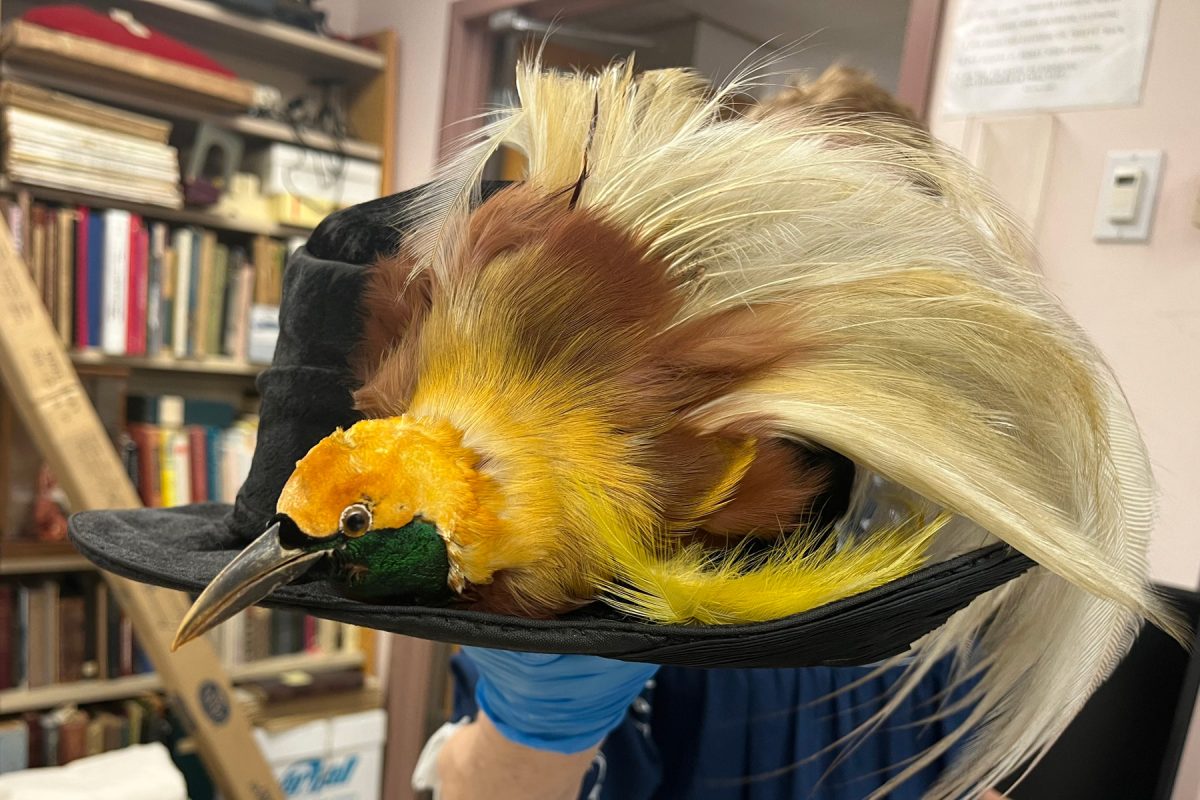 A hat with a bird that is an endangered species permanently perched on it. A women's gym suit from the 1920s. A cobalt-blue, velvet cape from the 1880s.  
Florida State University's Historic Costume and Textile Collection has all of these items and more, in a collection that remains out of sight to most people, except the few fashion students who access it for research purposes.    
The Jim Moran College of Entrepreneurship oversees the collection, which is tucked away on the third floor of the Sandels Building on FSU's campus. It began in 1952 with a donation from the Choate family of Tallahassee, said Sherry Schofield, professor and curator of the collection.  
"Most of the pieces date from the 1880s onward," she said.  
With that in mind, those donating the articles can be as interesting as the pieces themselves. Schofield noted that the collection includes a dress donated by Mamie Eisenhower, wife of President Dwight Eisenhower. Doak Campbell, FSU's first president and stadium namesake, donated a suit.  
Through the years, inventory swelled and includes Flapper dresses from the 1920's, '60s mod-style dresses, gowns, a three-piece, powder-blue, polyester suit from the 1970s and a collection of more than 750 hats. 
Schofield said the pieces serve as historical markers, each conveying the priorities, prejudices and motivations of the people of its era.  
"For example, you see women's clothing in the '80's with shoulder pads as more women began careers," she said. "They were trying to fit into the men's world so they had to look like men. In the 1940s (during World War II), women's clothing had a very military look." 
Schofield added: "There is a social psychology to fashion, and there is the question of what were the expectations for people of that time." 
Travis Wilson is a commercial entrepreneurship major in the Moran College and is working with Schofield to catalog the garments. As an aspiring clothing designer, Wilson said the collection offers endless inspiration in part because many of its pieces were made on a small scale by individual tailors and small shops.  
Streamlined mass production, Wilson said, has standardized the manufacturing process and, in many cases, stripped contemporary clothing of character.  
"When I see something that is unique or different from today's garments, I'll stop and wonder how and why they did this," he said. "Garments were much more personal. So, when you see something different, I often apply that to my own work."  
While Schofield noted that fashion does move in cycles, the collection offers some designs that are boldly out of step with contemporary culture and not likely to be seen again — including a hand warmer made of monkey fur and a hat adorned with the taxidermized corpse of the now-extinct bird of paradise.   
Among the other oddities the collection includes is a dress made of paper from the 1960s.  
"They called them pop dresses," she said. "They said you could wash it — but it was paper." 
The collection's use for student research fulfills part of its original mission, but Schofield said the hope is for an expanded location to accommodate and inspire visitors.