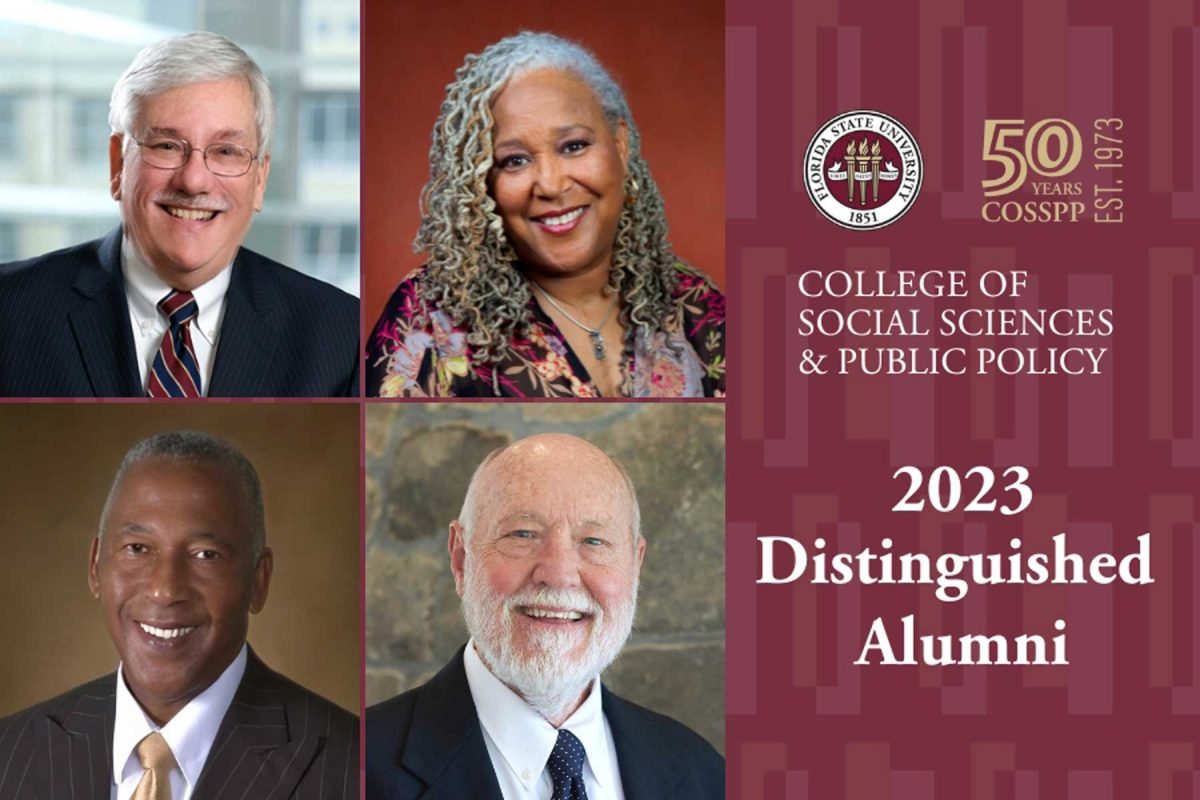 The FSU College of Social Sciences and Public Policy will honor four graduates for their professional achievements, contributions to society, and support of the college and university. 
The college will celebrate 2023 Distinguished Alumni – Mark P. Barnebey, Doby L. Flowers, Fred H. Flowers and Thomas M. Henderson – during its Annual Distinguished Alumni Gala on Nov. 17. 
"Our cohort of 2023 Distinguished Alumni are leaders in their respective fields and anchors in their communities," said Dean Tim Chapin. "Each of our honorees showcases the power of our graduates to make the world better in ways both big and small. We are immensely pleased to honor this esteemed cohort as COSSPP celebrates its 50th anniversary this academic year." 
Mark P. Barnebey serves as a principal with Blalock Walters, P.A. in Bradenton, Florida. Barnebey is board certified in city, county and local government law and has practiced in land use and local government law for 40 years. He is a three-degree graduate of FSU. He has a bachelor's degree in finance, a master's degree in urban and regional planning, and a juris doctorate. 
Doby L. Flowers was FSU's first African American homecoming queen for the 1970-71 academic year. She went on to work in public services in mayoral administrations in Boston and New York for many years before moving to W. R. Grace & Co., where she became the first global African American executive. She graduated from FSU with a bachelor's degree in social work and a master's in urban and regional planning. Flowers now owns a bed and breakfast in Thomasville, Georgia. 
Fred H. Flowers also broke new ground at FSU as a member of the baseball team, he was the first African American student athlete to wear an FSU uniform. Flowers opened his own law practice in 1981 and has been serving the Tallahassee community since. Flowers has a bachelor's degree in philosophy and master's degree in urban and regional planning at FSU. 
In 2018, the Flowers siblings co-founded FSU's Civil Rights Institute, which commemorates, celebrates and studies the U.S. civil rights movement and promotes justice and equality at FSU and surrounding communities. 
Thomas M. Henderson has been a public works and solid waste management administrator in South Florida, California, and Washington, D.C. Before his career in local government, he worked as a journalist for several Florida newspapers and United Press International. He also worked for the Florida House of Representatives and Senate. He earned his bachelor's degree in political science from FSU. 
For a list of all COSSPP's Distinguished Alumni, click here.