A Florida State University graduate whose fiction writing draws from his experience as an immigrant from Nigeria has earned the Flannery O'Connor Award for Short Fiction, one of the most prestigious awards in American literature. 
Iheoma Nwachukwu earned his doctorate in creative writing from FSU in 2018 and is now a professor at Eastern University in St. Davids, Pennsylvania where he lives with his wife and three sons. 
"The sheer astonishment of winning an award like this is almost too big for me to comprehend," Nwachukwu said. "I have to step outside my body to confront it." 
The O'Connor Award is bestowed by the University of Georgia Press annually and seeks to encourage talented writers of short stories by presenting their work to wider readership. The award, which includes a $1,000 prize and publication of a book-length collection of the winner's work, has launched the careers of numerous writers.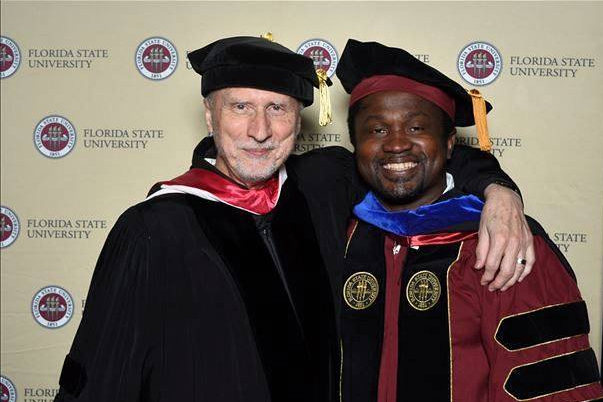 Krafft Professor of English and Pulitzer Prize Laureate Robert Olen Butler was Nwachukwu's doctoral adviser at FSU. 
"He richly deserves it in every way," Butler said of Nwachukwu's win. "Iheoma is not only a brilliant creative talent, he is one of the most admirable, sweet-spirited, compassionate and generous people I have ever known. I could not be happier for him."   
Nwachukwu's roots as a writer are grounded in Lagos, Nigeria where he grew up and earned an undergraduate degree in biochemistry, a field he joked he has no interest in.  
Money and resources were scarce and corruption rife in Lagos. Nwachukwu said his father's unwillingness to participate in corruption in his advertising business meant the family was frequently close to starting over.
"We would go years without really making a penny," he said. "There were no opportunities to make a living. In college, I was on the chess team and I would play chess to make money to buy textbooks and food." 
He was a professional chess player for 10 years. During that time, he stumbled onto a book called "How to Reassess Your Chess," which urged readers to "forget everything you know about chess." The refrain resonated and a familiar one would change his life. 
"When I took Bob's class, the first day he said, 'Forget everything you know about fiction,'" Nwachukwu said. "My idea of how fiction should function basically shifted." 
"He continued: "The structure of the story has to reveal the story you are telling. I focus on the rhythm of the story and the yearning of the character."   
Butler said Nwachukwu's work embraces universal themes.  
"His experience of growing up in a culture and political circumstance of such intensity gives him access to the enduring question all great literature attends to: 'who the hell am I?'" Butler said. "He is writing not just about Nigeria, not just about America; he's writing about the human condition."  
Butler added: "At this point in our history the immigrant experience has become a central issue not only politically but spiritually. That makes him, as a writer, even more important." 
Nwachukwu's "Japa and Other Stories" will be published by the University of Georgia Press next September.