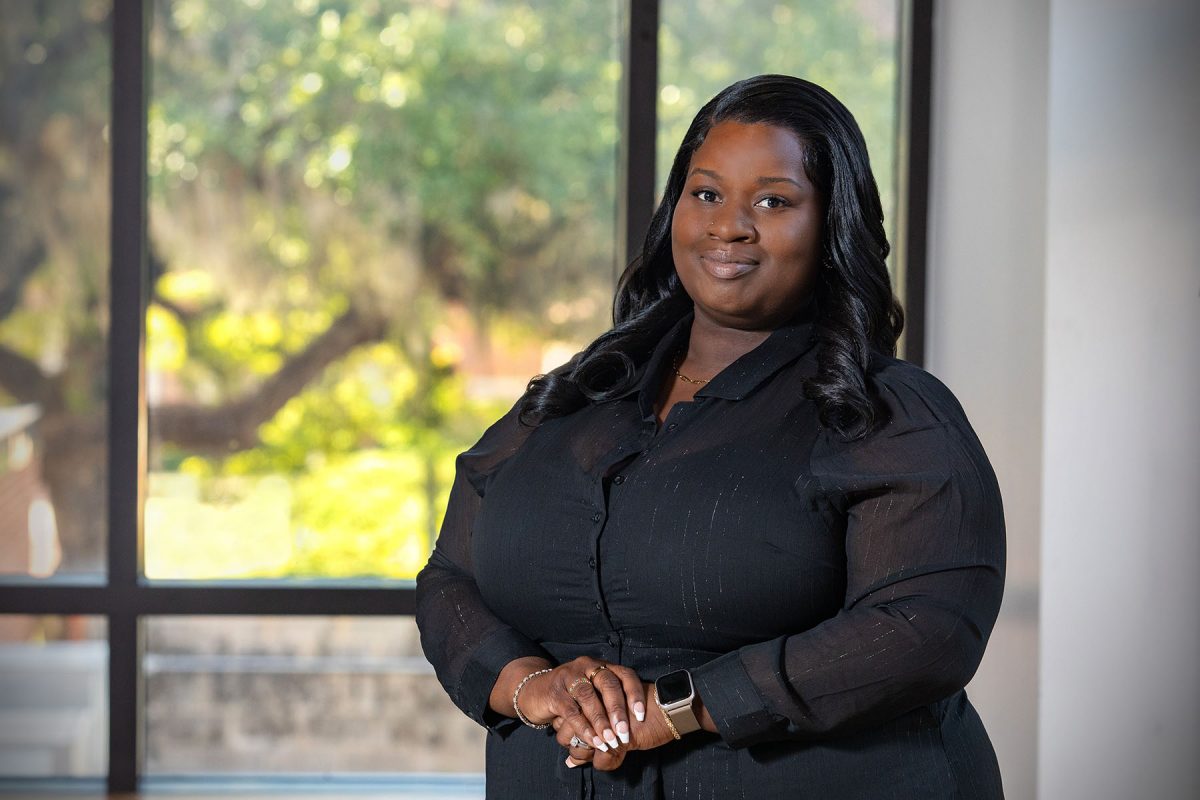 Danielle Boone is the 2023 winner of the Florida State University Max Carraway Employee of the Year Award.  
FSU President Richard D. McCullough selected Boone, who has served in her position for five years, for the honor. She is the administrative associate for purchasing and travel in the Educational Leadership and Policy Studies department.  
"Danielle's nominations display a variety of interaction among campus partners," said Renisha Gibbs, associate vice president for Human Resources and Finance and Administration chief of staff. "Her praise from students, faculty, employees and visitors shows just how impactful one person can be in a department." 
Since 2008, the Max Carraway Employee of the Year Award has acknowledged outstanding employees whose contributions and excellent service extend across campus. As an award recipient, Boone will receive two football tickets, a stipend and a reserved parking space for one year. 
Professor and department chair Toby Park-Gaghan wrote, "Danielle Boone truly embodies what it means to be customer-focused, courteous and empathetic. She has consistently gone above and beyond what is required of her in order to meet students where they are and assist them." 
Boone has a broad scope of responsibilities within her college.  
Christopher Small, director of online leadership and administration, said: "She has been instrumental in the revision, implementation and leadership of several programs within our department and has done an excellent job of articulating the changes in systems to both faculty and students. She is an expert at working with faculty and students to ensure aspects of financial accounting and purchasing are handled with practicality and according to university policy." 
Small also praised Boone for seeing beyond the tasks of her role and understanding the larger organizational impact.  
"She understands that the cornerstone of successful student and faculty retention at Florida State University is also connected to organizational structures, allocation of resources and sustainable means of project management and planning," he said. 
As an example of her reach with managing and planning projects, Boone's nominators praised her for her involvement with the annual Summer Institute. 
"In the Ed.D. program, Danielle has provided ongoing support with budgeting and purchasing, especially in the planning and execution of our annual Summer Institute, an event during which we host 100 program students on campus for a two-day learning intensive learning seminar," wrote Eric Ludwig, director of the online Ed.D. program and teaching faculty. "Danielle's support, knowledge, and guidance has been critical to the success of the Summer Institute." 
Her colleagues noted that Danielle does more than purchasing, accounting and event planning. She works with students and faculty on their travel needs and professional development, and she serves a critical role in faculty searches and hiring.  
Boone's nominators repeatedly emphasized her amazing attitude and commitment to going above and beyond in her many roles within the department. 
Boone was described by Cameron Beatty, associate professor in the Educational Leadership and Policy Studies department, as someone who "establishes and maintains connections with faculty, staff, graduate students and visitors with ease. She actively participates in meetings and activities, which helps her to recognize the underlying needs of the department and to propose solutions to aid our efforts." 
Boone expressed gratitude for what she described as a high honor. 
"I am deeply honored and humbled to accept the Max Carraway Employee of the Year Award from Florida State University," she said. "This recognition is a testament to the hard work and dedication not only of myself but also of my incredible support system from my family and the Department of Educational Leadership and Policy Studies. I am truly grateful for this prestigious accolade."