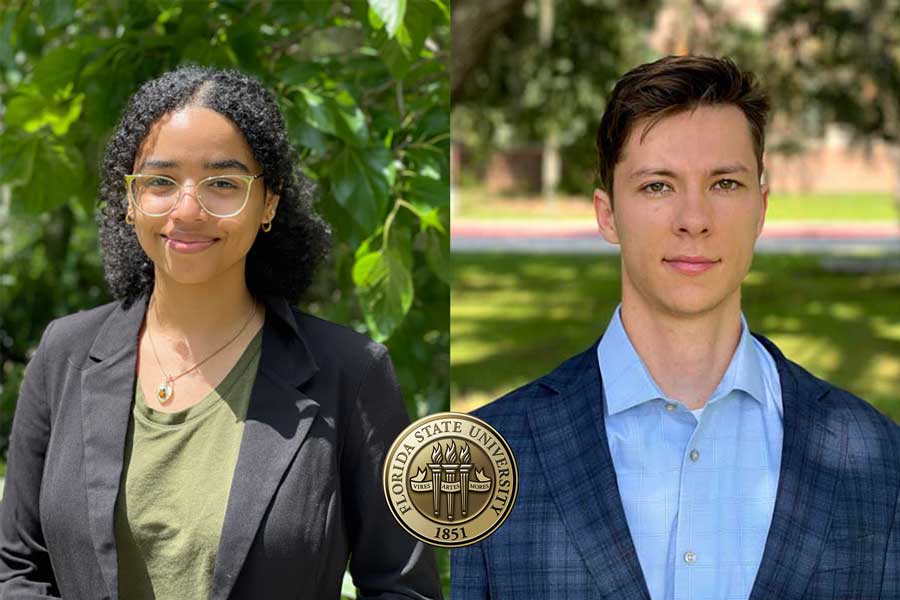 Two Florida State University students have earned Critical Language Scholarships (CLS) that will send them abroad for two months of firsthand learning about language and culture.  
Daniel Logan, a biology major from Lawrence, New Jersey, will travel to Kyrgyzstan in Central Asia to continue building his Russian language skills. Amaya Dickson, a double major in Middle Eastern studies and international affairs from Orlando, Florida, will look to expand her Arabic language skills while studying in Oman.  
The CLS is offered through the U.S. Department of State's Bureau of Educational and Cultural Affairs. The program bills itself as providing "rigorous academic instruction in 15 languages that are critical to America's national security and economic prosperity. CLS participants are citizen ambassadors, sharing American values and promoting American influence abroad." 
Logan, who will be a senior this fall, is from an ethnically Ukrainian family and has relatives that speak Russian which drew him to classes at FSU. He will be studying this summer in Bishkek, a city of one million people located about 7,200 miles east of Tallahassee.  
Logan has been to Ukraine twice, once on a study abroad trip through FSU and the second time through his duties with the Florida Army National Guard.  
"I used Russian language skills gained at FSU and a semester abroad in Kyiv to provide medical care to Ukrainian soldiers during the first few months of the invasion," he said. "It was an extremely rewarding experience to offer my medical and linguistic skills to help those in humanitarian crisis." 
Logan said he hopes the CLS will help him build on these experiences as he pursues a career in public health.  
"I am very interested in infectious diseases within conflicts and humanitarian crises," he said. "Infectious disease is an international problem that requires cultural and linguistic competencies. Those competencies facilitate cooperation, which helps us achieve better public health outcomes."  
Dickson will be staying in Nizwa, Oman, and said her interests in Arab culture and language have spurred her to take every Arabic course she could find at FSU.  She spent last summer at the northern end of the Arabian Peninsula after earning a Gilman Scholarship.  
"It was a life-changing experience in Jordan last year," she said. "I feel it's part of the world that is really misrepresented and misunderstood."  
Dickson leaves for Oman in early June and said her Arabic is progressing. 
"I think two months of doing nothing but studying the language and the culture will get me to where I want to be as far as comfort and confidence," she said.   
Dickson worked last year with an international humanitarian aid organization, helping with refugee rights and resettlement. It's work she'd like to continue when she completes the CLS.  
"I used my Arabic a lot which really reinforced in me how valuable a second language is in this work," she said. "Besides just being able to effectively communicate and navigate all the paperwork, it brings comfort to refugees when they hear their mother tongue." 
Both Dickson and Logan offered thanks to FSU's Office of National Fellowships.  
"The ONF opened my eyes to this opportunity and then helped me through the application process," Logan said. "This is an opportunity that's very rare. I'm very excited and intend to make the most of it."  
For more information, visit FSU's Office of National Fellowships.