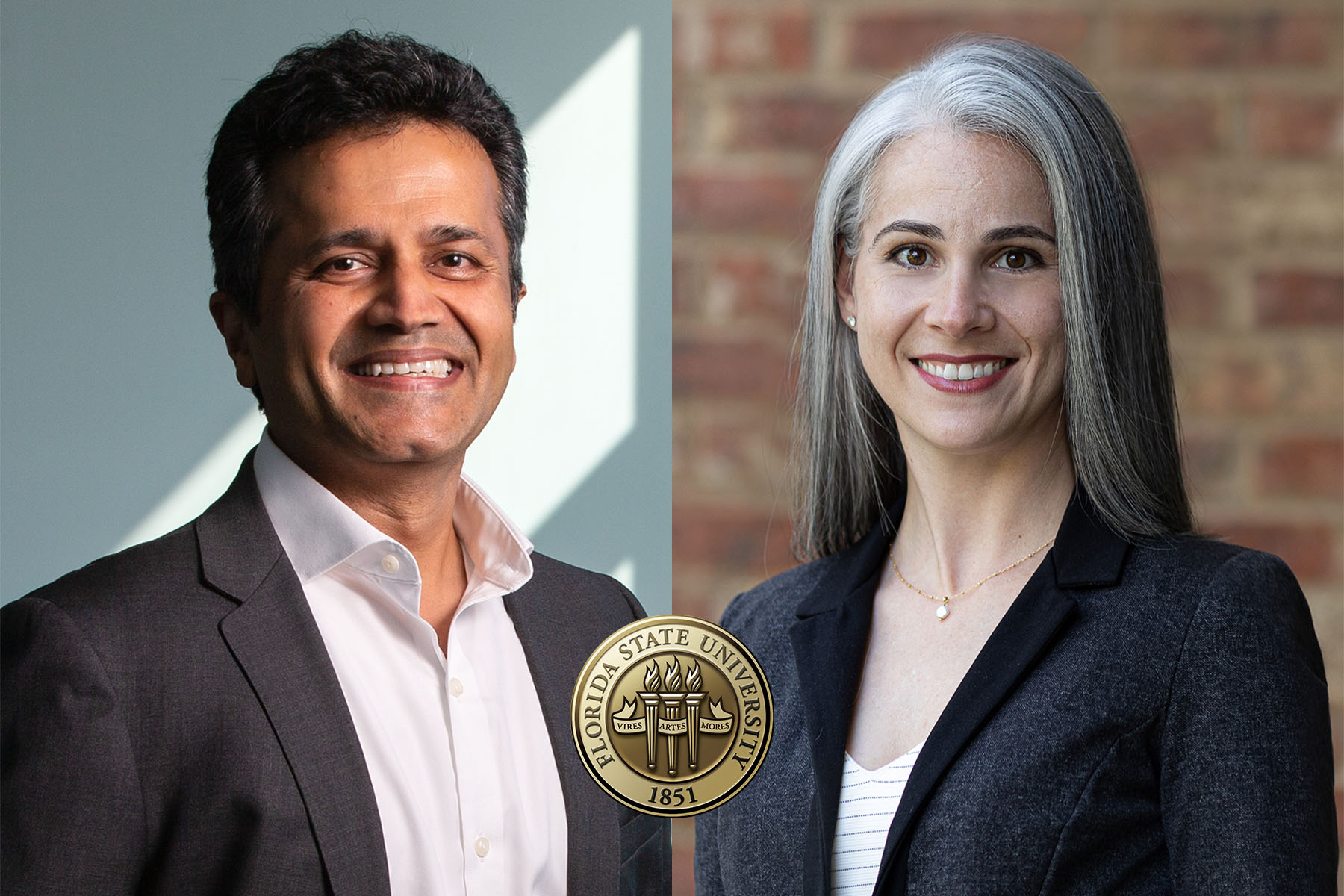 Two longtime Florida State University faculty administrators and innovators have joined the Office of the Provost, strengthening its leadership team in the areas of health, innovation, research and development.
Farrukh Alvi, the Don Fuqua Eminent Scholar and Professor of Mechanical Engineering, will lean on 30 years of experience at the university and a deep expertise in aerospace, propulsion and related areas in his new position of Associate Provost for Innovation, Research & Entrepreneurship in STEM. In this role, Alvi will collaborate on projects with the Vice President for Research and others across campus as FSU moves to expand its research portfolio, while taking advantage of and integrating it with its academic strengths and mission.
Alvi has spent the bulk of his career focusing on developing flow and noise control technologies that increase the efficiency of high-speed aircraft, automobiles and turbomachinery. He previously served as senior associate dean for Research and Graduate Studies of the FAMU-FSU College of Engineering from 2016 to 2022, including an eight-month stint as interim dean in 2022.
"Dr. Alvi holds 13 patents and has attracted more than $35 million in external funding for research, development and STEM education," said Jim Clark, provost and executive vice president for Academic Affairs. "He boasts a wealth of expertise and talent in these areas, and we are thrilled that he is now a part of our leadership team."
He was the founding director of the Florida Center for Advanced Aero Propulsion (FCAAP), a multi-university, state-wide research, technology and education center he helped establish in 2008 and is currently a part of the center's faculty team. FCAAP's mission is to develop cutting-edge technology in aerospace and aviation while also building the next generation of scientists and engineers.
Alvi said he is excited to start the next chapter of his career and help advance FSU's strategic goals.
"I'm an engineer so I love to build new things and improve existing ones," he said. Emily Pritchard, the new Assistant Vice President for Academic Affairs for Health Innovation & Strategic Alliances, will be working to catalyze and advance opportunities of strategic interest for FSU Health, creating connections within the university and across Florida.
Over the past few years, Pritchard has been cultivating the university's relationship with Mayo Clinic, building out a campuswide collaboration agreement. In her new role, she is charged with expanding FSU's work with Mayo as the university builds out FSU Health — a new initiative that will transform health care delivery in North Florida and includes the launch of the Academic Health Center at the Tallahassee Memorial HealthCare campus and a health care campus in Panama City Beach.
"Dr. Pritchard's strong working relationship to the Mayo Clinic, expertise in bioengineering and her cutting-edge perspectives on health innovation will be invaluable as we grow FSU Health," Clark said. "She is a crucial addition to our leadership team."
Pritchard brings 17 years of experience creating and cultivating strategic partnerships linking industry and academia for health innovation. Prior to joining FSU, Pritchard founded a company that helped med-tech startups develop and launch cutting-edge medical devices, often spinoffs from university research breakthroughs.
During the pandemic, she helped stand up an FSU diagnostic laboratory in collaboration with Tallahassee Memorial HealthCare, and she created the SAFER Team to streamline return-to-campus activities in collaboration with the Florida Department of Health.
Pritchard, who has faculty affiliations with the College of Medicine and Jim Moran College of Entrepreneurship, will continue to serve as director of the Biomedical Entrepreneurship Graduate Certificate Program shared by the two colleges. The program trains medical innovators across the state alongside FSU graduate students to think proactively about translating their expertise into health-centric products and services.
Working closely with the Vice President for Research, Pritchard will be piloting health innovation initiatives to grow translational research and entrepreneurial efforts to advance goals of FSU's strategic plan.
"As we build a dynamic ecosystem for FSU Health, we have tremendous potential to innovate in how we teach and translate research into clinical advances which enable people to live longer, healthier lives here in North Florida and around the world," Pritchard said. "I'm excited by the possibilities."